Last night's "First Tuesday of the Month Nashville Berklee Jam" was a huge success! The otherwise quiet Nashville suburb of Kingston Springs came alive as the alums began filtering into The Fillin' Station for this night of camaraderie and music.
The mission of this monthly event is to help build our Berklee community in Nashville, and for the first hour, old friends reunited and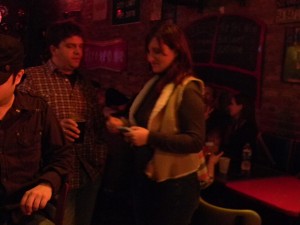 new friendships formed over lively conversation in this quaint setting. Shortly after 8 pm I made a few brief announcements before introducing the night's guest speaker, A-list session bassist, Mike Chapman.
Mike's talk centered on his lifelong career as a session player and he compared what he considers the key ingredients to being a successful studio musician to slices of a pizza.
The essential slices of the "session player pizza" include:
Talent and Skill
Positive Attitude
Strong Work Ethic
Flexibility
Taste
In talking about the support role that musicians play on a recording, Mike commented "there's a big difference between something that is fun to play, and something that is fun to listen to", noting that they are not always the same thing. He also added that "musicians, both live and in the studio, are essentially in the service industry, and it's our job to provide the window dressing to the song or artist". Another point he couldn't drive home hard enough was how essential it is to know "The Nashville Number System", as this is the main way songs are charted in Nashville, again, both live and in the studio, and the book bearing the same title by Chas Williams is a great way to learn.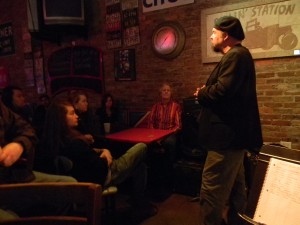 After Mike answered some questions from several alums it was time for some music. To get things started, I took the stage with our house band, consisting of Mike on bass and fellow alums, Heston Alley on Drums and Brian Lucas on Keys. We started out with a spirited version of Freddy King's "Key to the Highway", Paul Butterfield's "Born in Chicago" (featuring bar owner, Patrick Weikenand on harp) and one of my favorites, "Ain't Wasting Time No More".
Our next grouping featured Ted Schemp on guitar and vocals and Elton Charles, a recent arrival to Nashville, on drums, and we played one of Ted's originals followed by an instrumental blues jam. Sofia D got up and played some funky drums behind George Wong on bass and Ben Graves on guitar and vocals. Ben led us through a cool version of the Sam Cooke classic "Cupid" before Sarah Tollerson, host of another Alumni event, "Strength in Numbers" (held on the second Wednesday of each month at the Riverfront Tavern in downtown Nashville) joined us to sing "Oh Darlin'" and "You Make Me Feel like a Natural Woman".
Michelle Lambert, another recent newcomer, brought charts for a couple of originals and delivered some emotive vocals interspersed with some fine fiddle playing to a couple of arrangements on the fly. Bassist, Keiffer Infantino got into the mix with another recent arrival, guitarist Rick Carrizales, and at this point Ben Graves came back up to play some sax. We played a funky jam in A minor and everybody got to stretch out before our final tune of "Freddy the Freeloader", for which Mike Chapman got back up to finish the night.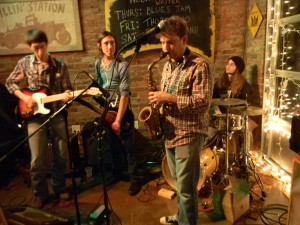 If there's one thing I have learned from all of the alumni events I have attended, it would be that Berklee alums are some of the nicest people you'll ever meet. And that open, warm feeling was evident in both the conversations and music that took place on this cold February night. I would also add enthusiasm to this list of traits, as there was an infectious, electricity in the air during these performances.
This jam was our first of many to come, as this will be held on the first Tuesday of each month, and the Nashville Berklee Jam website will serve to keep alums informed about future jams and all of the upcoming Nashville alumni events. I would also like to encourage interactivity on this site, so don't be afraid to post, comments, songs you would like to play or any other ideas you may have. On that note, I'm looking for volunteers to take photos and possibly shoot a few video clips of our next jam for future blogs.
Thanks again to all those who participated in making this night a great success and see y'all at the next one!
For those who are new to Nashville, or considering relocating to Music City, my book "The Nashville Musician's Survival Guide" is a street level perspective of the music related jobs found here, and the ultimate companion for today's musicians, songwriters and artists. Decades worth of information learned on the streets of Nashville for $20! How can you go wrong?