Austin
Some of my earliest childhood memories are of my dad playing records and, dare I say, reel to reel tapes of the music of Paul Butterfield, John Lee Hooker, Santana, and Derek and the Dominoes. I guess this music made an impression, because by my early teens in the early 1980's I was buying my own records, not of the pop-based FM radio music of my generation, but of the previous generations more blues-based artists. While everyone else was listening to E.L.O. and Michael Jackson, I was discovering Jimi Hendrix, the Allman Brothers, BB King and Bobby Bland. Sure, I liked some of the 80's guitar rock of the day, but always kept digging back to a more rootsy sound. Then right smack in the middle of 80's hair band mania came Stevie Ray Vaughan, and I immediately related to his music.
Stevie's music influenced a generation of guitarists and, at a moment where rock and pop music was winding itself up, almost single-handedly brought blues music back into the light. You couldn't go see a club band during the late 80's and early 90's without hearing his music. I found myself covering his renditions of blues classics like "The Sky Is Cryin'", "Empty Arms", as well as originals like "Cold Shot" and "Walkin' the Tightrope", as did many others at that time. Stevie's instrumental "Riviera Paradise" from the album 'In Step' is a beautiful piece of American roots music, and I always loved the spooky vibe created by his magical band on that song in particular.
I'll never forget the day I heard of his tragic passing, how sad it was that we had to lose such a wonderful artist at such a young age. But his music, and the influence of his music, lives on, and I, like many others, will always appreciate everything Stevie did for music, and everything his music has done for the world.
So that's why when I began hosting the Nashville Berklee Jam I felt compelled to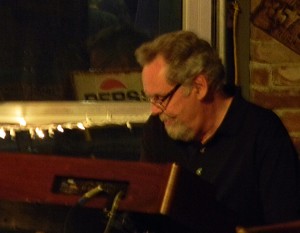 have Reese Wynans, the keyboardist who played with Stevie for the last five years of the great guitarist's life, as a special guest speaker/performer. Reese was kind enough to share his story with me and a room full of alums at our monthly Nashville Berklee Jam last Tuesday at The Fillin' Station.
Almost 20 years before he began working with SRV he was playing in cover bands in his home state of Florida, and he recounted one of his first bands playing five sets a night, six nights a week. Two of the other members were Dickey Betts and Berry Oakley and on their one day off they would play a weekly free jam, adding Duane Allman and Butch Trucks to the mix. Eventually Duane decided to start his own band and stole these key members to form The Allman Brothers.
After spending a few years in San Francisco and working with a still-unknown artist at this time, Boz Scaggs, he returned to Florida for a brief period and then worked the East Coast in a show band for a few years. Reese then migrated to Austin, Texas, a booming town full of blues-infused music by this point of the mid-70s. Of this time, Reese spoke passionately.
"It was really great for me living in Austin…everything was so rootsy…they had a great music scene back there in the 70's. They had a great blues scene, and a great blues club called 'Antone's'…and I would go and sit in at Antone's anytime I had a chance. I was ending up really lovin' the blues during this time."
By 1980 he found himself working for Delbert McClinton, playing on four of his records and touring extensively for the next five years. By 1985, Reese was ready to get off the road, and would have if not for a fateful encounter at the end of his final gig with Delbert. Apparently, Delbert's sax player had been invited to play on one song of a Stevie Ray Vaughan recording session after Delbert's concert, and at the last minute Reese was asked to join in as the other keyboardist did not show up. Things went very well at this particular recording session, one which produced the hit, "Look at Little Sister" and Reese was asked to come back and record the following day. By the end of that recording session he was asked if he wanted to join the band. Reese summed up a life lesson from this critical moment,
"When a door opens for you, you've got to be willing to walk through it, and then be able to deliver once you get through there."
The next five years would yield three Grammys, several world tours, and a reintroduction of the blues to the masses –
"We were spokesman for Texas blues…as much as Stevie didn't want to, BB King had to open for us, because we were just more popular than him. He said "no we can never, BB's always closing the show"… but finally, we had to headline…I loved playing in that band…we were all totally immersed in the blues, and we felt like were the vanguard of the blues. We were dragging Buddy Guy and Otis Rush into the light and presenting them out on our shows to people who were just hungry for that music…the stuff that we played I thought was shining a light on all the huge blues guitar players that had come before us, and that was a wonderful thing to do, I felt like it was really worthwhile."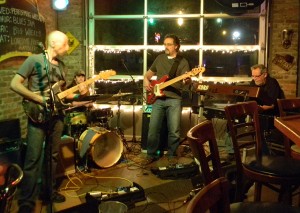 After Stevie's tragic passing, Reese wound up in Nashville, TN, a place where he has continued to record and perform on a national level. During the talk, Reese passed around his All Music Discography, which reveals a staggering body of work, including Brooks and Dunn's 2006 single of the year "Believe". He offered us some thoughts about the differences between studio and live performance –
"I like being in the studio, I like playing gigs, I like playing clubs…all you people who do studio work know it's two different things. Playing a club is really a chance to experiment…a chance to reach out in different directions and really find yourself. The studio isn't really a place for that. The studio is where you don't have to play it safe, but you've got to do something that's exactly right for the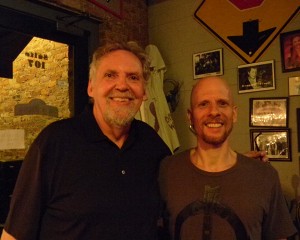 song…it's a place for finding something that works, finding something unique that works."
After his talk was finished, Reese was gracious enough to perform a set with our house band – a performance that was nothing short of inspired. I've heard his playing on many records, but there's something intangible that you can feel in the heat of live performance that goes beyond a recording, and that was evident on this night. One of the songs we played together was "Little Wing", a song that he had played on tour with Stevie, back in the day. On this song, Reese seemed to really stretch out in one of those magical musical moments in which time seems to stand still (see video below).
Eventually, this special night had to end, and we said goodbye after a quick photo op. Thanks, Reese, for sharing your wisdom, and for continuing to shine some light on that crown jewel of American music we call the blues.