Blake Shelton
By Eric Normand
What an amazing run of shows we had with Rhett Akins and Dallas Davidson on the forth installment of the Luke Bryan Farm Tour! The sold out tour embarked on eight shows across the Deep South, with Rhett and Dallas performing acoustically on the first four, and me and the boys joining in for full band performances on the second leg. The weather for these events was picture perfect, the crowds were huge, and the shows an amazing encapsulation of kinetic energy!
Me and the rest of the band (Nick Forchione on drums and Tom Good on bass) converged at a bus yard in Nashville on Tuesday night and hopped on Luke's band bus. You never know what to expect in these situations, (as the two bands began this run as total strangers) and we were pleased to learn that Luke's band and crew are some of the nicest people you could ever hope to work with. Gracious hosts, they made us feel instantly at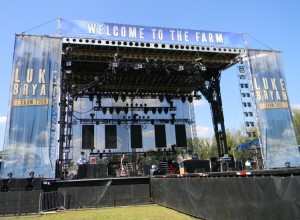 home.
After a good night of sleep on a smooth riding Prevost I awoke in Villa Rica, Georgia. This first show was on a football field, and by the time I wandered over to catering around 10 AM the mobile stage was already up, the field buzzing with activity. Luke went all out on the production for this tour, and there were no less than eight buses accompanying the five semi's full of staging, audio, lighting, video, and pyro it took to put on these mega-shows.
I was thrilled to find out that there were some other health-conscious folks in Luke's entourage, and me and Nick joined several of Luke's band-mates on a trip to the fitness facilities at the University of West Georgia. By 4 PM the stage crew was ready for our sound check, quickly dialing in our in-ear monitor mixes and a bigger than life sound through the mains of the million-dollar Claire Brothers sound system. As a guitar player, I've always struggled with in-ear mixes, lack of warmth and ambience being my main gripes, but on this lucky day I learned a new trick. Upon the suggestion of the Claire Brothers monitor engineer, we put a little reverb on my guitar in my ear mix, and this created some extra depth.
Later that night and after the first two openers, Chancie Neal, and Cole Swindell, we took the stage for the first full-band show with Rhett and Dallas. As members of the red-hot songwriting team known as "The Peach Pickers", Rhett and Dallas have 13 number one songs and countless top 20 hits between them, including a few of Luke's recent hits "Rain Is a Good Thing", "Country Girl Shake It for Me", and "I Don't Want This Night to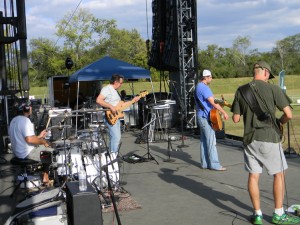 End". This fact makes it pretty easy to create a blockbuster 45 minute set which included Blake Shelton's "All about Tonight" and "Honeybee", Rodney Atkins' "Farmer's Daughter" and "Take a Back Road",  and the Trace Adkins chart topper "Honky Tonk Badonkadonk", among others. At times the crowd was singing along at a volume that was as loud, if not louder than the band! The action-packed set went by at warp speed, and it seemed like no sooner than we had started we were walking off the stage.
The stagehands helped us get our gear off the stage and by 9 PM our workday was done. A short workday is characteristic for an opening act on a major tour – you're the last to sound check and the first to play. Now it was Miller time, or in this case "Coors time", or for a few of us "Crown Royal time"! After a quick cocktail and a little chill time on the bus we went out to check out Luke's show. The level of musicianship in Luke's band is nothing short of exceptional, and their 90 minute set was a rocking good time with some stunning visual aspects as this night was a dress rehearsal for the following show which was being taped for a television special.
The following day I awoke and looked out the bus window to the view of an open, grassy field in Athens Georgia – this concert was actually taking place on a real farm! After a little morning chow I decided to take a jog down some of the surrounding roads of this picturesque farming community, Rhett's song, "Take a Back Road" having some real relevance on this warm autumn day. The day evolved similarly to the previous and the ultra-professional crew did an outstanding job erecting this mega-production in less than ideal circumstances. I later learned that the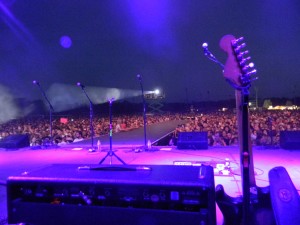 stagehands on this particular tour traveled from show to show (unlike many touring situations where stagehands are local to each venue) and this creates a continuity that helps the production run smoothly. The performances on this night went off without a hitch, with all of the bands delivering outstanding performances. Luke's show was filled with special visual effects for the filming of the television production – including a laser show, pyro, and a massive finale of fireworks to end the night.
The next day would find us in Tallahassee, Florida and I joined up with some of the guys to go work out at the fitness facilities of Florida State University. After a great workout at a great facility we were ready to get back for some lunch, but not before winding up in a "runner altercation". The runner informed us that he needed to stop at Lowe's to get some stage pins for the production crew. Of course they didn't have what he was looking for and sent us to another store that didn't have it either. An hour and a half later we caught a lucky break at a John Deere tractor store and were finally heading back to the venue with the necessary part, and some growling stomachs. Another sold out show, another night of great performances and we were off to the tour's grand finale in Macon, Georgia.
As Luke's buses were returning to Nashville after this final show and we were going on to play one more show with Dallas and Rhett at the Georgia Throwdown in Dallas' hometown of Albany, Georgia (a festival that Dallas helped organize), we had another bus arriving in Macon late morning. After the bus arrived we loaded our stuff onto it and continued about our day. As Macon is home of the final resting place of Duane Allman and Berry Oakley, a couple of us took the mile and a half walk to the Rose Hill Cemetery, a place from another world where a young Allman Brothers Band once played guitars, wrote songs, and partied into the hot Georgia nights.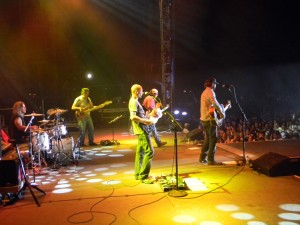 Later on we took the stage in front of 16,000 fans for a final, climactic performance on this epic tour. I've played countless big shows over my decade in Nashville, but on this particular night a special energy was present. The songs just seemed to play themselves and the crowd was singing every chorus (and many verses) at a near deafening volume. At one point I pulled out one of my in-ear monitors to really internalize the feeling of the moment. As a musician it's almost otherworldly to hear and feel your guitar coming out of 100,000 watts or so of PA speakers, and to feel the interaction between artists, band and audience on a show at this level is truly amazing! Our band was really on and Rhett and Dallas were at the top of their game, putting on a dazzling show for what looked like a sea of humanity that stretched to the horizon.
A little while later Luke and his boys played their final show of the Farm Tour, and their epic performances received over-the-top responses after each song. When the show ended all of the artists, musicians, and crew members gathered on the stage for a group photo of the entire entourage. I was sad to see this run end, but we left for Albany with the knowledge that we made a lot of people happy over the course of this week, and we had also made some great new friends! See you next year, Farm Tour!
To view a slideshow of some pics from the tour click here.
Even though the majority of the people who come to Nashville for CMA week are country music fans, you didn't have to be one to enjoy the BMI songwriter showcase-tailgate party yesterday at LP Field. This unique event was as much a foot stompin' rock concert as it was country music show, and the crowd of 3000 plus concertgoers received a rare treat on this warm, sunny afternoon. 2011 EMI songwriter of the year, Rhett Akins, and 2011 BMI songwriter of the year, Dallas Davidson, also known as the Peach Pickers, have written some of the biggest chart-toppers in recent country music history, and collectively have more hits songs currently on the radio than any of the major artists they write for.
As professional songwriters, they sit in a room with their acoustic guitars daily, writing hundreds of songs a year to come up with a handful of radio-bound gems. These songwriting sessions, and the demo recording process that follows, are quite often the first and last times they get to perform this music. So this rare occasion to play the hits they wrote in front of a large audience was as much, if not even more of a treat to the Peach Pickers as it was to anybody in attendance.
The hour-long show was off and running with the number one hit cut by Blake Shelton, "All About Tonight", a fitting start for this musical adventure. Rhett and Dallas took turns singing verses and choruses as we moved through what was essentially a "greatest hits" of modern country radio music, including the six number ones they've written in recent years. The crowd sang along throughout the show as we put our own twist on songs like Honeybee, Take a Back Road, Gimme That Girl, Put a Girl in It, Honky-Tonk Badonkadonk, This Ole' Boy, and several others.
Near the end of the show, Rhett unexpectedly pulled out a couple of surprises, performing his own hits "That Ain't My Truck", and the showstopper, "Kiss My Country Ass". At a few different points throughout the show, Rhett gave credit to the band which was comprised of Nick Forchione on drums, Mike Chapman on bass, Scott Tweten on guitar, and me on guitar and harmony vocals, the excited crowd responding with cheers of approval every time. We concluded this blockbuster set with the fitting "I Don't Want This Night to End" a number one song which was cut by Luke Bryan and had just won video of the year the night before.
The truth is that none of us wanted this night to end, it was a special moment and the unique nature of this show will make it one of the more memorable things I have been a part of in my 10+ years working in the Nashville music industry. But the good news is that we will be taking this show on the road a little later on in the summer, performing at Michael Waddell's annual Bone Collector fan club party on August 17 in Montgomery, Alabama. I want to send out a special thank you to all the fans that came out for this show, and everybody who put in a lot of hard work behind the scenes to make this event the huge success it was. Till next time, "it's all about tonight"!
Click here to view some photos from the show (courtesy Kelly Normand)
For more in-depth perspective on the behind the scenes of the Nashville music industry, please check out my book "The Nashville Musician's Survival Guide", which features an in-depth interview with Rhett as well as many others Nashville insiders.