carpal tunnel
Have you ever experienced hand or arm pain, or pain in your joints when playing a musical instrument? Perhaps you experience this pain while working at a computer or a mixing console? How about weakness or numbness in your hands or fingers? If you have, or do experience any of these symptoms on a regular basis you are not alone, you, like me, are one of many who live with repetitive motion injuries.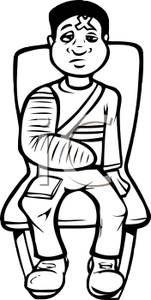 Several years ago, while working on the Toby Keith tour, I was helping the crew load some heavy cases onto a truck. Everything was going fine until one particularly hard-to-maneuver case began to fall off the ramp, with my hand still holding one of the handles. The case didn't fall completely off the ramp and we were able to pull it back up, but not without my right elbow becoming engulfed in pain. My first thought was that maybe I had sprained something, but I had sprained joints before and they didn't feel like this. This pain seemed to be centered on my right elbow, and was an intense, burning sensation, like my elbow was on fire. I also felt pain if I squeezed or gripped anything in my right hand. I was instructed by the road manager to get it checked out by a doctor as soon as we returned to Nashville.
At the time of this incident I had already been playing guitar for over 20 years, I had previously worked in construction for several years, and was currently performing a fairly physical job as a guitar tech. All of those years of daily, repetitive hand and arm motions suddenly caught up with me, hurling me full speed into the world of "repetitive motion injuries". According to the doctors, I had developed tendinitis, and while this incident with the road case may have acted as a trigger, "it had likely been a long time in the making", they explained. "So how do we heal this?" I asked.
The approach that the doctors chose for me was a regular course of anti-inflammatories, a steroid shot, an arm brace, and the recommendation to "do your best to avoid lifting or gripping anything heavy", the last piece of advice being somewhat unrealistic for a guitar tech. Although I did follow these recommendations, even adapting some of the physical elements of my job, several weeks later I was still experiencing a lot of pain on a daily basis. It still hurt to grip things with my right hand, and I was beginning to have wrist pain and numbness down my arm. With my situation worsening, the doctors now recommended physical therapy, and this is where I finally began to see some results.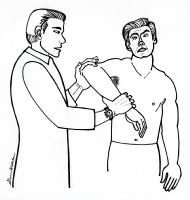 The physical therapist took an entirely different approach. He showed me several hand and arm stretches, which I was instructed to perform daily, he massaged the area of inflammation, and iced it. He showed me how to do the massages myself, and instructed me to do them every morning and night after the stretches, the application of ice always being at the end of the routine. He told me to "listen to my body" and that to perform my regular physical activities as long as they didn't cause pain. "If an action begins to cause pain, try not to do it." Making great improvements over the following weeks, I couldn't understand why the doctors hadn't recommended any of these approaches. In fact, the doctors did very little to explain the finer points of my affliction, most of what I learned about what causes tendinitis and how to deal with it, I learned from the physical therapist.
Over the following months I was able to get an upper hand on my tendinitis, and through regular stretching, didn't have any more problems for several years. Then I had a setback. One day I was making a homemade pedal board and spent several hours tightly gripping and squeezing a rivet gun. The end result was a resurgence of the pain in my right elbow as intense as that caused by the Toby Keith road case incident. I paid a couple more visits to a physical therapist who was able to help with some soft tissue manipulation, but the biggest thing he did to help me long term was to introduce me to a whole new way of stretching. The following, which I quoted from my book "The Nashville Musicians Survival Guide", is part of what I learned.
"The muscles in your arms are actually a series of overlapping interconnected muscles, tendons, and ligaments that run from your fingers all the way to your shoulder. It is because of this fact that it is important to also stretch areas of the arm that might not have any pain or problems. Performing stretches that work your wrists, triceps, and shoulders will ultimately help stretch all the muscles and tendons in between.
Stretching an arm with tendinitis is not the same as stretching a healthy arm and requires some caution. Listen to your body. The stretching should cause some sensation but should not be painful. The more you stretch, the more results you will experience. Stretch at regular intervals throughout the day, always making it a point to warm up with some light cardio before your first stretching sequence. (Stretching cold muscles can cause further injury.) If you are gigging, try to stretch before the performance, after the performance, and even in between songs if you have a chance"…
Taken a step further, it only makes sense to stretch and exercise your entire body, as everything is truly connected… the hip bone's connected to the leg bone, the leg bone's connected to the…
Keeping It at Bay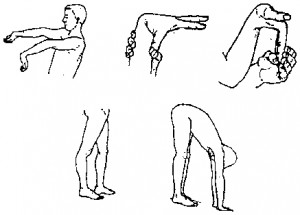 I was able to eventually get my recent tendinitis flare up under control, but this affliction still haunts me to this day, with a constant effort required to keep it at bay. If I don't stretch regularly, the pain comes back, and as the body ages it seems like we are more predisposed to injury – gravity is not on our side. That being said, something that has helped me greatly has been an investment in overall physical fitness, health and well-being. I've tried a lot of different exercise programs in recent years, my favorite being the "P90X series" of which I have done several rounds. But I must say that yoga seems to be the one exercise that has helped my overall situation the most, it's absolutely outstanding for overall flexibility.
Eating healthy food doesn't hurt either. In fact, there are certain foods that increase inflammation, and others that help to decrease inflammation.
Foods that help decrease inflammation:
Foods containing Omega-3 fatty acids like cold water fish, canola oil, and pumpkin seeds; Olive oil, nuts, fruits, vegetables, lean poultry, legumes, tofu, ginger, and some herbal teas
Foods to Avoid
Junk foods, high-fat meats, sugar, and highly processed foods are at the top of this list. Avoid anything that contains high amounts of trans fats and saturated fats like red meat and high-fat processed meats such as bacon and sausage.
For more info on what foods to eat or avoid, follow this link to read the article from which much of this nutritional information was taken, or visit the website, Do It the Hard Way, to learn some nutrition basics and find healthy recipes.
Unfortunately, we live in a society that tends to address problems only as they occur, rather than focusing on prevention. When I think back to all my years of guitar lessons, even my years of music college, no instructor ever told me that repetitive motion injuries exist, let alone how to prevent or deal with them. If you're a musician and don't yet have any of these afflictions, it's obvious that physical fitness and overall health and well-being will reduce your chances of ever having these problems. And if you are "playing with pain", you're not alone, there are many of us. But the good news is that most problems are treatable, there are solutions – they just require a little knowledge, a consistent effort, and some self-investment.
"Every human being is the author of his own health or disease."
— the Buddha
To gain some more perspective on repetitive motion injuries, as well as some of their common misconceptions, follow this link and read "A Cure for Carpal Tunnel Syndrome?" by Jennie Hoeft, as it was reposted on Nashville drummer, Stephen Taylor's blog.