CMA
Even though the majority of the people who come to Nashville for CMA week are country music fans, you didn't have to be one to enjoy the BMI songwriter showcase-tailgate party yesterday at LP Field. This unique event was as much a foot stompin' rock concert as it was country music show, and the crowd of 3000 plus concertgoers received a rare treat on this warm, sunny afternoon. 2011 EMI songwriter of the year, Rhett Akins, and 2011 BMI songwriter of the year, Dallas Davidson, also known as the Peach Pickers, have written some of the biggest chart-toppers in recent country music history, and collectively have more hits songs currently on the radio than any of the major artists they write for.
As professional songwriters, they sit in a room with their acoustic guitars daily, writing hundreds of songs a year to come up with a handful of radio-bound gems. These songwriting sessions, and the demo recording process that follows, are quite often the first and last times they get to perform this music. So this rare occasion to play the hits they wrote in front of a large audience was as much, if not even more of a treat to the Peach Pickers as it was to anybody in attendance.
The hour-long show was off and running with the number one hit cut by Blake Shelton, "All About Tonight", a fitting start for this musical adventure. Rhett and Dallas took turns singing verses and choruses as we moved through what was essentially a "greatest hits" of modern country radio music, including the six number ones they've written in recent years. The crowd sang along throughout the show as we put our own twist on songs like Honeybee, Take a Back Road, Gimme That Girl, Put a Girl in It, Honky-Tonk Badonkadonk, This Ole' Boy, and several others.
Near the end of the show, Rhett unexpectedly pulled out a couple of surprises, performing his own hits "That Ain't My Truck", and the showstopper, "Kiss My Country Ass". At a few different points throughout the show, Rhett gave credit to the band which was comprised of Nick Forchione on drums, Mike Chapman on bass, Scott Tweten on guitar, and me on guitar and harmony vocals, the excited crowd responding with cheers of approval every time. We concluded this blockbuster set with the fitting "I Don't Want This Night to End" a number one song which was cut by Luke Bryan and had just won video of the year the night before.
The truth is that none of us wanted this night to end, it was a special moment and the unique nature of this show will make it one of the more memorable things I have been a part of in my 10+ years working in the Nashville music industry. But the good news is that we will be taking this show on the road a little later on in the summer, performing at Michael Waddell's annual Bone Collector fan club party on August 17 in Montgomery, Alabama. I want to send out a special thank you to all the fans that came out for this show, and everybody who put in a lot of hard work behind the scenes to make this event the huge success it was. Till next time, "it's all about tonight"!
Click here to view some photos from the show (courtesy Kelly Normand)
For more in-depth perspective on the behind the scenes of the Nashville music industry, please check out my book "The Nashville Musician's Survival Guide", which features an in-depth interview with Rhett as well as many others Nashville insiders.
As some of you might know, there's a lot going on in Nashville this week. It's that time of year again where 250,000 country music fans converge on the city for "CMA Music Fest Week" (formally known as Fanfare). Tourists, country music fans, and curiosity seekers from all over the globe will fill the streets, shops, hotels, restaurants, nightclubs and concert halls, and while this can make getting around a little sticky for the locals, it is truly an exciting week for Music City, not to mention good for the local economy. This year, I am fortunate to play my own part in these festivities.
Thursday, June 9 from 11 AM – 2 PM I will be doing a book signing at the Charlie Daniels Museum on Second Avenue in downtown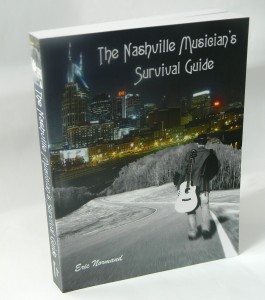 Nashville (between the Hard Rock Café and the Wildhorse Saloon.) This unique museum/gift shop began selling my book last week at which time I was fortunate to meet the museum's owner, Bud Messer, who requested I come back and do and in-store signing during Fanfare. Bud is a great guy and I am honored to receive this invitation from such a prestigious institution, not to mention the fact that they are now selling my book. (The Ernest Tubb Record Shop on Broadway is also now selling my book.)
This Saturday, June 11 my band will be performing at The Fillin' Station in Kingston Springs. The fun starts at 7 PM, and if the weather is good (which it looks like it will be), the outdoor patio will be open. This week the band will consist of me on vocals and guitar, Nick "Shaggy Bag" Forchione on drums, Tom Good on bass, and special guest Patrick Weikenand (formerly of the band "War") on harp and beer slinging. This club is a one-of-a-kind experience, so if you've never been, you owe it to yourself to check it out. (no cover.)
Monday, June 13 I will be giving my first talk on the book when I host "The Nashville Musician's Survival Guide Workshop" at Corky's Ribs & BBQ, 100 Franklin Road, Brentwood, TN 37027. This luncheon will be sponsored by "Indie Connect" and held between 11:30 AM and 1:30 PM. Cost $10.00. This presentation will be somewhat informal and there will be a lot of questions and answers, networking and group interaction.
Other than that, it's been hot as hell in middle Tennessee for the past month, and we've had over 10 straight days of 90° plus heat with no end in sight. Stay on the lookout for heat and poor air-quality advisories.
So that's it for now, if you're around, please stop in to one of my events or gigs and say hi.