Fillin' Station
Some of my earliest childhood memories are of my dad playing records and, dare I say, reel to reel tapes of the music of Paul Butterfield, John Lee Hooker, Santana, and Derek and the Dominoes. I guess this music made an impression, because by my early teens in the early 1980's I was buying my own records, not of the pop-based FM radio music of my generation, but of the previous generations more blues-based artists. While everyone else was listening to E.L.O. and Michael Jackson, I was discovering Jimi Hendrix, the Allman Brothers, BB King and Bobby Bland. Sure, I liked some of the 80's guitar rock of the day, but always kept digging back to a more rootsy sound. Then right smack in the middle of 80's hair band mania came Stevie Ray Vaughan, and I immediately related to his music.
Stevie's music influenced a generation of guitarists and, at a moment where rock and pop music was winding itself up, almost single-handedly brought blues music back into the light. You couldn't go see a club band during the late 80's and early 90's without hearing his music. I found myself covering his renditions of blues classics like "The Sky Is Cryin'", "Empty Arms", as well as originals like "Cold Shot" and "Walkin' the Tightrope", as did many others at that time. Stevie's instrumental "Riviera Paradise" from the album 'In Step' is a beautiful piece of American roots music, and I always loved the spooky vibe created by his magical band on that song in particular.
I'll never forget the day I heard of his tragic passing, how sad it was that we had to lose such a wonderful artist at such a young age. But his music, and the influence of his music, lives on, and I, like many others, will always appreciate everything Stevie did for music, and everything his music has done for the world.
So that's why when I began hosting the Nashville Berklee Jam I felt compelled to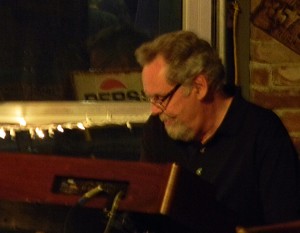 have Reese Wynans, the keyboardist who played with Stevie for the last five years of the great guitarist's life, as a special guest speaker/performer. Reese was kind enough to share his story with me and a room full of alums at our monthly Nashville Berklee Jam last Tuesday at The Fillin' Station.
Almost 20 years before he began working with SRV he was playing in cover bands in his home state of Florida, and he recounted one of his first bands playing five sets a night, six nights a week. Two of the other members were Dickey Betts and Berry Oakley and on their one day off they would play a weekly free jam, adding Duane Allman and Butch Trucks to the mix. Eventually Duane decided to start his own band and stole these key members to form The Allman Brothers.
After spending a few years in San Francisco and working with a still-unknown artist at this time, Boz Scaggs, he returned to Florida for a brief period and then worked the East Coast in a show band for a few years. Reese then migrated to Austin, Texas, a booming town full of blues-infused music by this point of the mid-70s. Of this time, Reese spoke passionately.
"It was really great for me living in Austin…everything was so rootsy…they had a great music scene back there in the 70's. They had a great blues scene, and a great blues club called 'Antone's'…and I would go and sit in at Antone's anytime I had a chance. I was ending up really lovin' the blues during this time."
By 1980 he found himself working for Delbert McClinton, playing on four of his records and touring extensively for the next five years. By 1985, Reese was ready to get off the road, and would have if not for a fateful encounter at the end of his final gig with Delbert. Apparently, Delbert's sax player had been invited to play on one song of a Stevie Ray Vaughan recording session after Delbert's concert, and at the last minute Reese was asked to join in as the other keyboardist did not show up. Things went very well at this particular recording session, one which produced the hit, "Look at Little Sister" and Reese was asked to come back and record the following day. By the end of that recording session he was asked if he wanted to join the band. Reese summed up a life lesson from this critical moment,
"When a door opens for you, you've got to be willing to walk through it, and then be able to deliver once you get through there."
The next five years would yield three Grammys, several world tours, and a reintroduction of the blues to the masses –
"We were spokesman for Texas blues…as much as Stevie didn't want to, BB King had to open for us, because we were just more popular than him. He said "no we can never, BB's always closing the show"… but finally, we had to headline…I loved playing in that band…we were all totally immersed in the blues, and we felt like were the vanguard of the blues. We were dragging Buddy Guy and Otis Rush into the light and presenting them out on our shows to people who were just hungry for that music…the stuff that we played I thought was shining a light on all the huge blues guitar players that had come before us, and that was a wonderful thing to do, I felt like it was really worthwhile."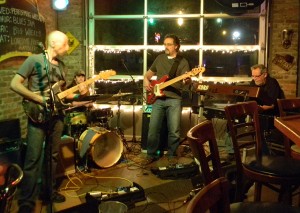 After Stevie's tragic passing, Reese wound up in Nashville, TN, a place where he has continued to record and perform on a national level. During the talk, Reese passed around his All Music Discography, which reveals a staggering body of work, including Brooks and Dunn's 2006 single of the year "Believe". He offered us some thoughts about the differences between studio and live performance –
"I like being in the studio, I like playing gigs, I like playing clubs…all you people who do studio work know it's two different things. Playing a club is really a chance to experiment…a chance to reach out in different directions and really find yourself. The studio isn't really a place for that. The studio is where you don't have to play it safe, but you've got to do something that's exactly right for the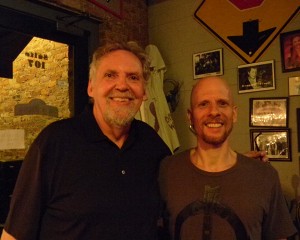 song…it's a place for finding something that works, finding something unique that works."
After his talk was finished, Reese was gracious enough to perform a set with our house band – a performance that was nothing short of inspired. I've heard his playing on many records, but there's something intangible that you can feel in the heat of live performance that goes beyond a recording, and that was evident on this night. One of the songs we played together was "Little Wing", a song that he had played on tour with Stevie, back in the day. On this song, Reese seemed to really stretch out in one of those magical musical moments in which time seems to stand still (see video below).
Eventually, this special night had to end, and we said goodbye after a quick photo op. Thanks, Reese, for sharing your wisdom, and for continuing to shine some light on that crown jewel of American music we call the blues.
Our second "Nashville Berklee Jam" at The Fillin' Station in Kingston Springs this past Tuesday was a great success! The guest speaker on this night was none other than Nashville's award-winning vocal coach, Judy Rodman. Judy has played many a role in the Nashville music industry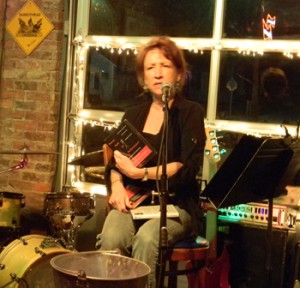 over the years – recording artist, A-list session singer, producer, hit songwriter – and on this night her talk focused on different career paths for vocalists. Judy was involved in the writing of my book "The Nashville Musician's Survival Guide" and, backing up my theory of the necessity to "wear a lot of hats", she talked about multiple streams of income for today's musicians and artists. Among the potential jobs for vocalists she outlined were artists, live singers, and session singers (jingle singers, background vocals, demo singing, and voiceovers).
Here are a few excerpts:
"Recording artists need vocal ability, because the mark is up. Even with pitch fixing, rhythm fixing…your vocal needs to be as good as it possibly can be because it's going to sound more natural and it's going to be more emotionally compelling…You also need a 'unique artist definition'…it's not good enough to be just another great singer…you really need to be unique and find your own definition as an artist – your uniqueness, your vocal uniqueness – which means you need to explore your whole voice and your life experiences that you're going to put into your art. The sound of your artistic definition is going to have to do with the sound of your voice, the choice of your instrumentation, and your message… Artistic definition takes exploration. For those of you wanting a career as a recording artist I would say don't shortcut your experimentation."
"For live background singing – you need to have the ability to trace and completely blend and go with the nuances of the voice of the singer you are looking to back…You've got to be able to change your sound as the artist wishes…you will of course have to have the ability to sing harmony parts and hear them… you have to have a specific look – whatever the artist is looking for. You need to network and find out who is gigging, who is in need of background vocalists."
"Session singing…You need great vocal technique, usually you'll need some vocal training…you really need to have surgical control of your voice for pitch, sound, blend and nuances –because time is money in the studio…You need to of course hear harmony parts quickly, you need to have the ability to read manuscript…but you also need to know the Nashville Number System."
Judy then gave some practical vocal technique tips before answering several questions from alumni. Click on the following links if you would like to hear her talk in its entirety.
Judy Rodman Talk – Part One (21 min)Judy Rodman Talk – Part 1 (21 min)
Judy Rodman Talk – Part Two (21 min) Judy Rodman Talk – Part 2 (21 min)
There is also a ton of useful and practical information for vocalists at Judy's website www.judyrodman.com.
When her talk concluded we began the jam portion of the evening with our house band backing Judy for two songs to start things out. Her second tune, "One Way Ticket", was a number one hit she wrote that was cut by LeAnn Rimes. Judy's vocal performance was emotionally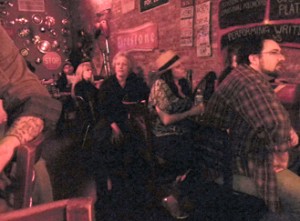 charged and inspiring to say the least, and this set the tone for the rest of the evening. A special dynamic on this night was the "optional vocal performance critique" that Judy offered for willing participants. To break the ice, I decided to go first and sang my two songs with the house band. After my first song, Judy pointed out some of the strengths about my performance and addressed a few things to work on.
The jam continued with several great performances. Brian Lucas, the house keyboardist, sang a great rendition of "Georgia", for which he took the vocal critique option. This pattern continued for the rest of the night, with literally every vocalist asking for a critique. Among these were Ted Schempp, the vocal duet "Acklen Park" (performing songs they co-wrote with alum, Shantell Ogden), Sarah Tollerson, and Michelle Lambert – all performing original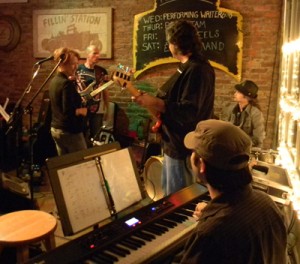 material. After the first song by each performer, Judy offered critiques and then we would try a part of the song again, seeing instant improvement in the vocals (don't get me wrong, the vocal performances were pretty strong to begin with). Alums, Elton Charles on drums and Rick Carizales on guitar, also sat in and did a fine job backing up some of the guests. Brian Lucas made a big contribution by charting out many of the songs in advance, and Shantell helped out by taking photos and some great video excerpts (see below).
It really was a special evening, fun was had by all and I think everybody learned a few things too. I want to thank Judy Rodman, our house band (Heston Alley on drums, Tom Good on bass, Brian Lucas on keys) and all the alums who participated and helped make this a special evening, I can't wait for the next one!
The next Nashville Berklee Jam will be held on Tuesday, April 10th at the Fillin' Station with special guest, Reese Wynans, formerly of Stevie Ray Vaughn & Double Trouble. His talk will share perspective on being a lifelong career musician, working with SRV, and the importance of understanding blues and roots music. Please check our website regularly for updates.