Frank Taylor
Ask any musician or songwriter that's been in Nashville for a while if they've ever heard of, or been to the Fiddle and Steel and most will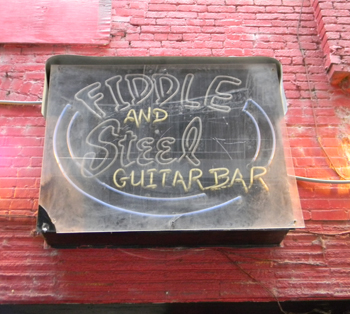 say yes, for sure. The Fiddle and Steel Guitar Bar, aptly dubbed "The Steel", is located in historic Printer's Alley off of Church Street and has been a staple of the Nashville nightclub scene since 1996. This homey, rustic club, often referred to as "the cheers" bar of Music City,  is a place where musicians, artists, tourists, and locals gather to enjoy great music, see old friends, and make new ones. The Steel has also been a launching pad for some of the biggest artists in country music today, including Rascal Flatts, Eric Church, and many others.
To many musicians working within the Nashville music industry, the Steel is a special place, kind of a home away from home. The club's owner, Alison Bradsher, takes great pride in creating a vibe that is comfortable and relevant to music industry types, while still appealing to locals and tourists. The club has a decent PA system and one of the best sounding stages in the city, making it a desirable room in which to perform. In line with the clubs friendly nature, guest musicians and singers sit in regularly with the house bands, a tradition that dates back to the clubs earliest years.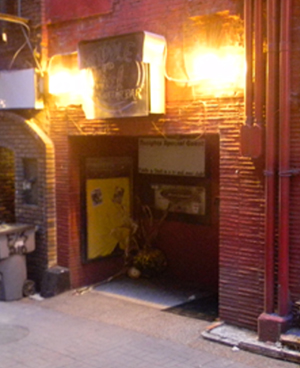 Over the years, many Nashville players and artists have established friendships and relationships at the Steel that have helped their careers, often leading to other gigs, touring and recording work, kind of a "gateway club" for some. So it's no wonder that a couple of visits to the Steel by my wife and I during our "Nashville field trip" in 2002 helped prompt us to move here in the first place.
During my first year in Nashville we were pretty steady regulars at the Steel, hardly missing any of the Tuesday night jams hosted by Ronnie Pittman, and frequenting the club as often as we could. By September of that year I was gigging regularly with Ronnie on Mondays at the Second Fiddle on Broadway while playing in Kentucky on the weekends, and it was during this time that I first met Frank Taylor, a talented singer and songwriter who frequented the Steel quite a bit back then. A deep-rooted part of the club's fabric, Frank was one of the very first singers to ever perform at the Steel, and whenever he was around; his presence only seemed to further enhance the charm of the place.
So when he asked me if I would be interested in playing guitar for him at his regular Saturday night gig there, of course I said yes. He's a great singer and audiences related to him, the club was a great hang, and I was ready to take the next step in my Nashville evolution – pretty much a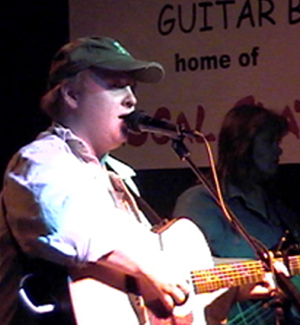 no-brainer. So I gave notice to my house gig in Kentucky and started playing every Saturday night at the Steel.
I'm not sure how this lineup came to be, but our band consisted of Frank on lead vocals and acoustic, Jack Gavin on drums, Brenda Clarke on bass and vocals, Steve Poole on keys, and me on electric guitar and vocals. It was a great lineup, we gelled well. Every Saturday night I would park in a nearby parking garage and wheel my gear down the old cobblestone street of Printers Alley, past the Bourbon Street Blues and Boogie Bar, and into the Steel. Every gig was an adventure, you never knew who might show up or what we might attempt, so I was genuinely excited to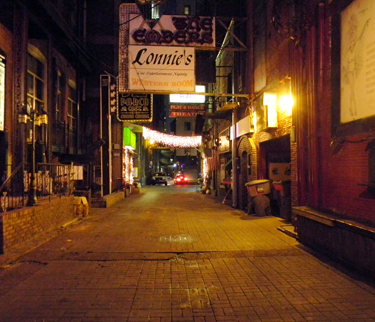 play.
Frank isn't the typical country singer; he has a unique angelic quality to his voice – soothing, soulful, yet compelling and almost hypnotic. He sang songs by artists like Vince Gill, Delbert McClinton, the Eagles, Jimmy Buffett, CCR, all of course with his own spin. He could make you laugh too. At least once a night he would say something like "Kelly's coming around with the tip jar, and this is how we make our living in Nashville. If you could just spare a few dollars, I'll be able to pick up some Krystal burgers for my daughter on the way home. Please throw in some money so I can feed her, she hasn't eaten all day." This was especially funny to anyone who knew Frank, as he didn't even have a daughter.
Frank genuinely enjoyed singing and entertaining and this feeling was infectious, usually spilling over into the other players, the crowd, and the staff. After playing a good long hour or so for our first set we would take a break, and then, during the second set, we would get up any players and singers that wanted to sit in. The guests could range from some young aspiring singer on vacation from out of town, to touring musicians on hiatus, to artists like Joe Nichols or Toby Keith. Even the occasional tourist who wanted to sing Margaritaville was welcome on our stage (although most of the tourists had no business performing anywhere other than in a karaoke setting).
So that's how I spent my Saturday nights for quite a while. We never had a rehearsal and didn't really hang out together outside of these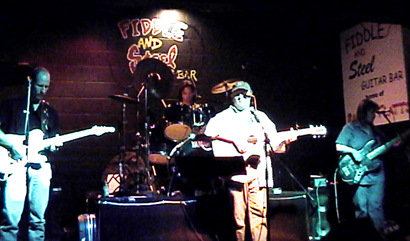 gigs, but we were a unit. By the time a couple of months had passed, this band was tight! Sometimes one of us would have to sub out our gig for something more lucrative, and eventually a couple of the other players moved on, but for a while, this lineup held together. And while I wasn't making a lot of money, I was having tons of fun, gaining experience, and making contacts. By the middle of the summer of 2003 I was offered a road gig that I couldn't turn down, and had to give Frank my notice. Ironically, the road gig came about through a friendship I had made at the Steel.
Looking back, those seven or eight months I spent at the Steel with Frank and the gang were among some of the best times I've had in Nashville. We may have all been on our own separate paths, searching for the next big gig, publishing deal, or connection, but once a week our paths crossed and we came together to play music and forget about our life struggles. Time stood still at the Steel on those nights and it seemed like those moments would last forever. Since those days, everyone that was in that band has moved on to different gigs. Isn't it funny how life's circumstances bring people together for a common purpose only to eventually spread us apart again like ash strewn to the wind. Even though I haven't seen or spoken to some of my comrades at the Steel since those days, I'll always have great memories of those times. For me, that's what a great night club experience, or life for that matter, is all about – sharing good music and fun times with good friends, even if only for a brief moment. Thanks Frankie!