Michael Waddell
Even though the majority of the people who come to Nashville for CMA week are country music fans, you didn't have to be one to enjoy the BMI songwriter showcase-tailgate party yesterday at LP Field. This unique event was as much a foot stompin' rock concert as it was country music show, and the crowd of 3000 plus concertgoers received a rare treat on this warm, sunny afternoon. 2011 EMI songwriter of the year, Rhett Akins, and 2011 BMI songwriter of the year, Dallas Davidson, also known as the Peach Pickers, have written some of the biggest chart-toppers in recent country music history, and collectively have more hits songs currently on the radio than any of the major artists they write for.
As professional songwriters, they sit in a room with their acoustic guitars daily, writing hundreds of songs a year to come up with a handful of radio-bound gems. These songwriting sessions, and the demo recording process that follows, are quite often the first and last times they get to perform this music. So this rare occasion to play the hits they wrote in front of a large audience was as much, if not even more of a treat to the Peach Pickers as it was to anybody in attendance.
The hour-long show was off and running with the number one hit cut by Blake Shelton, "All About Tonight", a fitting start for this musical adventure. Rhett and Dallas took turns singing verses and choruses as we moved through what was essentially a "greatest hits" of modern country radio music, including the six number ones they've written in recent years. The crowd sang along throughout the show as we put our own twist on songs like Honeybee, Take a Back Road, Gimme That Girl, Put a Girl in It, Honky-Tonk Badonkadonk, This Ole' Boy, and several others.
Near the end of the show, Rhett unexpectedly pulled out a couple of surprises, performing his own hits "That Ain't My Truck", and the showstopper, "Kiss My Country Ass". At a few different points throughout the show, Rhett gave credit to the band which was comprised of Nick Forchione on drums, Mike Chapman on bass, Scott Tweten on guitar, and me on guitar and harmony vocals, the excited crowd responding with cheers of approval every time. We concluded this blockbuster set with the fitting "I Don't Want This Night to End" a number one song which was cut by Luke Bryan and had just won video of the year the night before.
The truth is that none of us wanted this night to end, it was a special moment and the unique nature of this show will make it one of the more memorable things I have been a part of in my 10+ years working in the Nashville music industry. But the good news is that we will be taking this show on the road a little later on in the summer, performing at Michael Waddell's annual Bone Collector fan club party on August 17 in Montgomery, Alabama. I want to send out a special thank you to all the fans that came out for this show, and everybody who put in a lot of hard work behind the scenes to make this event the huge success it was. Till next time, "it's all about tonight"!
Click here to view some photos from the show (courtesy Kelly Normand)
For more in-depth perspective on the behind the scenes of the Nashville music industry, please check out my book "The Nashville Musician's Survival Guide", which features an in-depth interview with Rhett as well as many others Nashville insiders.
Last weekend the Rhett Akins tour rode into Harrisburg, Pennsylvania for what would be one of our coolest outings in a while. Fans of Michael Waddell and his popular hunting show "Bone Collector" were about to be treated to a special night of fun and music for the show's third annual fan club party, and it was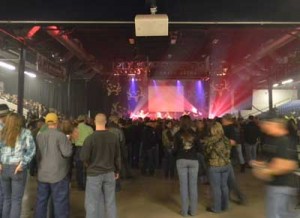 our job to provide some extra "lift" on this particular night. After a long day of setup and preparation the doors finally opened at 7 PM, and the "small arena" at the PA Farm Show Complex began to fill quickly with an excited crowd of hunting aficionados. The Bone Collector crew had laid out quite a spread, and the guests began enjoying the free buffet with a few cold ones while the sounds of Rhett's hunting songs from "The Brotherhood Album" filled the air in a hall that looked ready for an Aerosmith concert.
The place was filling up fast, and soon "Bone Collector" stars Michael, T-Bone, and Nick Mundt, were accompanied by some of the other show organizers on stage to offer a warm welcome to the crowd. After raffling off some free giveaways, the first performer, MCA recording artist Ashton Shepherd took the stage and played a short acoustic set with one of her bandmates, her clear, country voice filling the auditorium. Near the end of her set T-Bone came back out and invited a couple up onto the stage to deliver one more prize giveaway. Apparently, the couple were longtime fans of the show, and what at first looked like a raffle giveaway quickly became a more substantive moment when the fellow dropped to his knees and proposed to his unsuspecting fiancé. The woman had no idea this was going to happen, and was near tears as they danced on the stage to a touching serenade by Ashton. After a few more prize giveaways, Rhett and band took the stage.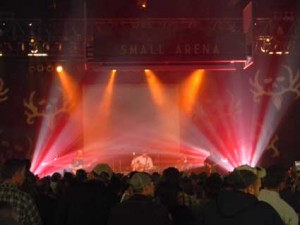 Our first tune was "My Baby Looks Good in Camouflage", one of several hunting themed songs we would perform from Rhett's latest album project, and the crowd was instantly singing along with this song that has never even been on the radio. Midway through the set, Rhett announced that we were going to play his song "Bird Dog" and asked if there was anyone in the crowd who knew the song and wanted to come up and sing along. Two fellows in the front row made their way onto the stage and joined Rhett for an "interesting" rendition, after which Rhett announced "Sorry, I won't do that again."
By the end of Rhett's first rocking performance the place was buzzing with excitement, and many of the 1200 plus fans were crowded up to the front of the stage, standing elbow to elbow in a sea of camouflage. After a few more giveaways, Michael introduced the night's unannounced "special guest" Aaron Lewis from the band Staind, and the crowd was treated to an intimate acoustic version of "It's Been a While", amidst his four song set.
It was now time for a final round of giveaways and Rhett's second and final set to cap off the night. With a few big surprises still in store, Rhett kept the first part of this set short and sweet, and by the time we had played three or four songs he was inviting Ashton back up to the stage for an unplanned sit in. The two sang a heartfelt duet of the Hank Williams Jr. classic "Dinosaur" and the crowd roared with their approval. Next, Rhett brought up Michael to play some guitar, and Nick Mundt to sing Whitesnakes "In the Still of the Night". Nick may be a hunter by trade, but it's obvious that he may have been a rock 'n roll front man in another life, as was evident from the bloodcurdling howl he let out at the beginning of the tune. His scream, combined with the sound of three electric guitars and our rhythm section thru a mega-watt PA system, threw the night into overdrive. The night was now beginning to feel like an episode of Don Kirshner's "Rock Concert" and I ran out to the center of the stage to exude a little "attitude" with Nick during this fun moment, both of us getting down in a rockstar stance.
Now it was time for the grand finale and Michael's 10-year-old son, Mason joined us to sing the final two songs. With Michael still on guitar, we launched into AC/DC's "TNT" with some real fire and fury, and it was Mason who was now running the show, the crowd instantly showing their approval for one of the world's youngest front men. While Mason worked the crowd, Nick and T-Bone sang backup vocals, the crowd now singing along too, and I was rocking out with Mike who was now showing off some of his new "guitar moves" that I had shared with him during our rehearsal earlier in the day. When the song ended, the crowd response was one of the biggest of the night, the roar almost deafening, and Nick hoisted young Mason up onto his shoulders for a victory lap. Not wanting this moment to end, we did one more song to take full advantage of our would-be rock 'n roll army, the Guns and Roses classic "Welcome to the Jungle", and again, young Mason was triumphant.
The song ended, and Michael stayed on guitar for the last song of our rock 'n roll crescendo, Rhett's rendition of "Last Chance for Mary Jane", a real rarity. I don't think I've played this many classic rock songs in a row since I moved to Nashville. It was kind of like going back in time and playing in one of my old top 40 bands, except through a million-dollar PA system, and with a bigger crowd! The concert ended and Michael was back on the mic thanking the crowd and his guests for being a part of this special night. Over the years I've played many "corporate" type events, and I can't think of any that possessed the kind of fun and spirit that was in the room on this particular night. The folks at Bone Collector sure know how to throw a good bash and I can hardly wait for the next one!