Ronnie Pittman
It was sometime in the fall of 2002 and my wife, Kelly and I were attending our weekly Tuesday night outing at the Fiddle and Steel. Already having sat-in earlier in the night, we were getting ready to leave as it was getting kind of late, when Ronnie Pittman, the singer and host of this unofficial jam night, approached us at the bar. "Hey man, I need a guitar player to play some Monday nights with me at the Second Fiddle. Are you interested?" he asked. "I'd love to, thanks for asking." I replied, further adding "One thing I should tell you upfront is that I'm not totally up on all the old country stuff yet." "That's no problem; we don't do that many old country tunes. And besides, the last thing I need is another guitar player that constantly plays 'dubadibby dabaduboo dubadibby dabaduboo'." he explained, mimicking a cliché sounding rapid-fire guitar lick. "Great, I'm there!" I exclaimed.
The following Monday I arrived early to the Second Fiddle on Broadway, double parked to load in my gear, and then drove around for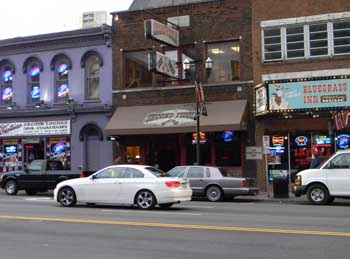 about 20 minutes looking for a free parking space. After setting up my stuff and hanging for a bit with Ronnie and the band, our night of music began. Ronnie played a mix of contemporary country ranging from Travis Tritt to Little Texas, some 80s and 90s country/pop from groups like Exile, a few old school country tunes, R&B from the likes of Delbert McClinton and Van Morrison, and some classic rock from groups like the Eagles, the Allman Brothers, and Steve Miller. His wife also sang harmony and lead vocals and fronted the band on a few songs by artists like Martina McBride and the Dixie Chicks.
I knew a lot of the material and managed to feel my way through the songs I didn't know. We played a couple of long sets with a break in the middle and, although people wandered in and out of the club all night, I don't think the crowd ever got above 15 or 20. Nevertheless, the music was enjoyable and we all had a good time playing. At the end of the night I tore down my gear and waited for Ronnie to count the tips (I think the grand total was something like $28 apiece including the base pay of $20 each). The short pay was all right with me, as I was still trying to gain experience and make connections. Ronnie thanked me and asked me if I wanted to play the following Monday, which of course I did, and told him so.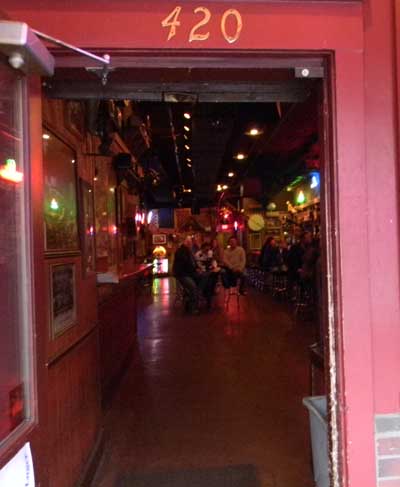 So this became my first regular in town gig. And it was perfect. Ronnie was a real laid-back singer to work for, he always had a decent rhythm section, and his repertoire consisted of a lot of pop, rock, and R&B; styles I was already familiar with. He did play just enough contemporary and classic country for me to explore my new chops in that area as well.
Gigging with Ronnie also created some other opportunities. After a month or so of these gigs I did an out of town weekend with Ronnie and his band in Georgia. It was on that gig where I met a keyboard player Ronnie had hired named Gordon, and it was through Gordon that I landed the house gig at Libby's in Kentucky.
Another connection I made was through one of our regular attendees, a truck driver named 'Bud' who worked for Charlie Daniels and took a liking to my guitar playing. He stopped in for our gig once in a while when he was in town, eventually hooking me up with a friend of his who had an indie band called "The Watercolor Project". I wound up doing some recording sessions with this trippy rock band, a project and genre that allowed me to gain some studio experience in a far more relaxed setting than my virgin studio outing , a debacle that almost sent me packing a couple of months prior.
So I was getting my country/pop thing happening by gigging with Ronnie on Monday nights, and honing my chops on traditional country on the weekends in Kentucky. While it was a lot of activity it still didn't add up to enough to pay the bills, so I was still working the eBay/pawn shop angle pretty hard. One of my eBay sales, that of an old Tube Screamer that I sold for $75, was bought by another Nashville guitarist who suggested meeting in town to buy the pedal rather than shipping it. I e-mailed him about meeting at my Monday night gig, and the following week he arrived to do the transaction. This led to one of the biggest eye openers I had in that first year.
I arrived downtown for my regular Monday night gig with Ronnie and set up my gear. After the first set I was still standing on the stage for a few minutes when a long-haired fellow approached me. "Are you Eric?" he asked. "Yes." I answered "You must be Mark." After exchanging a few brief words I presented him with one slightly beat up Ibanez Tube Screamer and he paid me $75 in cash. He then asked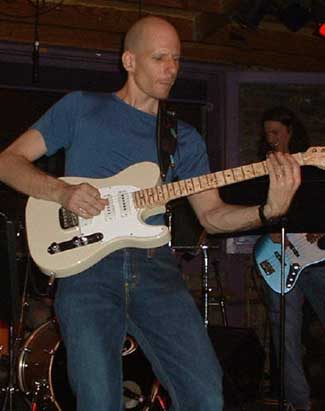 me how long I had been in town, to which I answered "I've been here for about six months." He reacted with surprise, acknowledging my accomplishments with "Wow, that's great. Six months and you're already gigging." He then added "I'm still working towards playing out, I'm not quite there yet, but I'm getting close. I've been in a couple of different bands so far, but nothing that's made it out of the practice hall yet." "How long have you been here?" I asked innocently. "Five years." He answered and a deafening silence engulfed the moment.
The stark reality that there are musicians trying to find their way in Nashville that are here for years had yet to stare me in the face with such clarity. It was almost as if an atomic bomb had been dropped right outside of the club. "I'm sorry to hear that, best of luck to you with that." I mean, what else can you really say? A minute or so later we said goodbye, and the long-haired struggling stranger sauntered out the door.
For me, that moment clarified a lot of things. It made me realize that there are far more musicians here than there are opportunities for them. It reaffirmed some of the advice I had received from my mentor, D, one piece being "Whatever you do, don't join a band, band's starve." It made me further appreciate the fact that I was lucky enough to have a mentor here in the first place. It allowed me to view all of my gigs and performance opportunities with much more optimism. And it made me realize, in a town where so many struggle, just how fortunate I had been so far.