self publishing
It amazes me how every day is so packed full of tasks. As soon as I'm finished with breakfast, I excitedly walk up to my office, sit down at my computer, and dig in to this book project that has all but consumed my life for the past two years. I'm about two days away from sending the finished PDF off to the printer, yet it still seems like it's never actually going to happen.
Yesterday's big task was all about finishing the cover design. I had some major help with this all-so crucial and final last step. This help came in the form of the world's greatest graphic designer (AKA my wife, Kelly). The cover came out great. The front cover art was completed last year, but we still had to design the spine, and the back cover. According to "Dan Poynter's Self-Publishing Manual," the back cover is the most important element of your books exterior. For it is the back cover text that will ultimately cause a potential customer to look inside, and hopefully purchase the book, or, put it back on the shelf and pass on it. And of course, it must have a look and feel that makes people want to read it when they pick it up.
We looked at several other books for ideas as a starting point for our cover design. One of them was "I, Alex Cross" by James Patterson, a very cool looking, and eye-catching book exterior. After hours and hours off trial and error, experimenting in Photoshop, etc., we arrived at a finished design that does justice to this manuscript. While the cover concept was completely Kelly's brainchild, I was the chief laborer in this massive endeavor. Almost every time I had a question, her answer was simply "Google it." This was not because she didn't know the answer, but because she knew I was capable of figuring it out myself – and that by figuring it out myself, I would actually learn something:)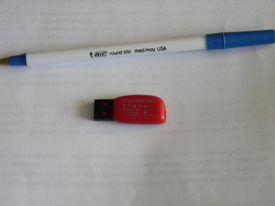 There was one other interesting moment in the last couple of days. Last week I took a flash drive down to Staples and had them print out the entire manuscript on premium copy paper, and then fasten it together with a ring binder. This was so we could give the book one last proof read, check for photo resolution, formatting, etc. (there's a lot of stress involved when you're about to spend thousands of dollars to print a book no one has even read yet.) But the funny moment came just before leaving for Staples when I put the flash drive on the kitchen table and made the comment "So there it is, my entire life's work for the last two years reduced to one, microscopic flash drive, barely the size of a walnut." It seemed so strange and surreal.
Anyway, just a few more details and I will be done with all the "tasks" required to get this long awaited book out into the world. I really am getting close, but it still seems like I will never finish. Well that's it for now; got to get back to those tasks …I'll keep you posted!