transplant
After spending my first 35 years living in New England, getting used to the humid subtropical climate of Nashville took some effort. Compared to middle Tennessee, spring through fall in the Northeast is quite mild, while the dreaded winter months have often been compared to those of Canada or Siberia. Those brutally cold and frigid winters can sometimes begin as early as mid-October and last all the way through April on some years. Snowstorms, ice storms, daily high temperatures in the 20s, teens, or less, and brutal nor'easter's are often daily occurrences for months on end. And then finally, the snow starts to melt, the birds return, the trees begin to grow leaves again, and spring is upon us. Of course Spring can also be a cold wash out with temperatures only reaching the 50s accompanied by the kind of rainfall that could rival Seattle. On years where this happens, it seems like it goes straight from winter to summer. I used to think, before I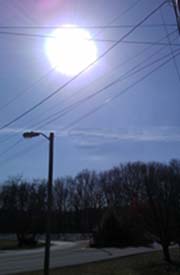 lived in the South, that New England summers could get too hot, but in hindsight I was just being a baby. How I long for those pussified summers now. Fall in New England is arguably the best weather of the year. Cool, dry, great weather to be outdoors.
That's all behind me now. For the climate of Nashville, my new home, is radically different, and one that requires a whole new mindset. The winters in Nashville, if you want to call them that, are almost more like spring in New England. While it can get cold, occasionally getting down into the teens or low 20s, it is not uncommon to have several warm sunny days in each of the winter months, temperatures sometimes even climbing into the 70s. It might snow once or twice, maybe an ice storm or two, some rain, but in general I find these winters very livable compared to those of my New England years. Spring can be real nice temperature wise, but this is also our primary tornado season and, after this year, flood season. This brings us to summer, or as I call it, hell on earth. Beginning in June, or sometimes as early as mid-May, it's 90° plus and humid every day for what seems like an eternity, typically all the way through September. Some get used to this heat and humidity but I can't stand it, to me this is a New England winter in reverse.
During the cold wet winter months of New England, outdoor activities all but grind to a halt (except of course for those who love to ski or snowmobile). In general, except for commuting to work, most New Englanders stay indoors during this time of year, waiting for it to warm up a bit to resume outdoor activities. Now that I live in Nashville this is how I approach summer. In general, it's just too hot and humid for me to enjoy the outdoors during this time of year, and I find myself waiting for it to end so I can again enjoy the outdoors on a regular basis. I literally get cabin fever during the summer. But then it finally ends with the onset of fall, my favorite time of year here, by early to mid October. Of course we have to be on our toes in November for our secondary tornado season.
So I don't know if it's just me or if other transplants feel this way, but as far as the climate of middle Tennessee goes – Fall is great, Winter is palatable, Spring can be hairy, but Summer just plain sucks. I'm glad it's finally over.