vocal coach
Our second "Nashville Berklee Jam" at The Fillin' Station in Kingston Springs this past Tuesday was a great success! The guest speaker on this night was none other than Nashville's award-winning vocal coach, Judy Rodman. Judy has played many a role in the Nashville music industry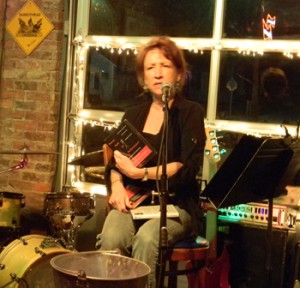 over the years – recording artist, A-list session singer, producer, hit songwriter – and on this night her talk focused on different career paths for vocalists. Judy was involved in the writing of my book "The Nashville Musician's Survival Guide" and, backing up my theory of the necessity to "wear a lot of hats", she talked about multiple streams of income for today's musicians and artists. Among the potential jobs for vocalists she outlined were artists, live singers, and session singers (jingle singers, background vocals, demo singing, and voiceovers).
Here are a few excerpts:
"Recording artists need vocal ability, because the mark is up. Even with pitch fixing, rhythm fixing…your vocal needs to be as good as it possibly can be because it's going to sound more natural and it's going to be more emotionally compelling…You also need a 'unique artist definition'…it's not good enough to be just another great singer…you really need to be unique and find your own definition as an artist – your uniqueness, your vocal uniqueness – which means you need to explore your whole voice and your life experiences that you're going to put into your art. The sound of your artistic definition is going to have to do with the sound of your voice, the choice of your instrumentation, and your message… Artistic definition takes exploration. For those of you wanting a career as a recording artist I would say don't shortcut your experimentation."
"For live background singing – you need to have the ability to trace and completely blend and go with the nuances of the voice of the singer you are looking to back…You've got to be able to change your sound as the artist wishes…you will of course have to have the ability to sing harmony parts and hear them… you have to have a specific look – whatever the artist is looking for. You need to network and find out who is gigging, who is in need of background vocalists."
"Session singing…You need great vocal technique, usually you'll need some vocal training…you really need to have surgical control of your voice for pitch, sound, blend and nuances –because time is money in the studio…You need to of course hear harmony parts quickly, you need to have the ability to read manuscript…but you also need to know the Nashville Number System."
Judy then gave some practical vocal technique tips before answering several questions from alumni. Click on the following links if you would like to hear her talk in its entirety.
Judy Rodman Talk – Part One (21 min)Judy Rodman Talk – Part 1 (21 min)
Judy Rodman Talk – Part Two (21 min) Judy Rodman Talk – Part 2 (21 min)
There is also a ton of useful and practical information for vocalists at Judy's website www.judyrodman.com.
When her talk concluded we began the jam portion of the evening with our house band backing Judy for two songs to start things out. Her second tune, "One Way Ticket", was a number one hit she wrote that was cut by LeAnn Rimes. Judy's vocal performance was emotionally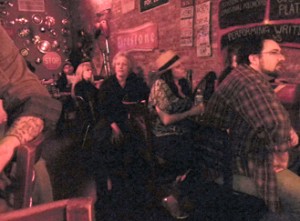 charged and inspiring to say the least, and this set the tone for the rest of the evening. A special dynamic on this night was the "optional vocal performance critique" that Judy offered for willing participants. To break the ice, I decided to go first and sang my two songs with the house band. After my first song, Judy pointed out some of the strengths about my performance and addressed a few things to work on.
The jam continued with several great performances. Brian Lucas, the house keyboardist, sang a great rendition of "Georgia", for which he took the vocal critique option. This pattern continued for the rest of the night, with literally every vocalist asking for a critique. Among these were Ted Schempp, the vocal duet "Acklen Park" (performing songs they co-wrote with alum, Shantell Ogden), Sarah Tollerson, and Michelle Lambert – all performing original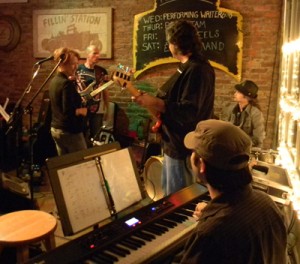 material. After the first song by each performer, Judy offered critiques and then we would try a part of the song again, seeing instant improvement in the vocals (don't get me wrong, the vocal performances were pretty strong to begin with). Alums, Elton Charles on drums and Rick Carizales on guitar, also sat in and did a fine job backing up some of the guests. Brian Lucas made a big contribution by charting out many of the songs in advance, and Shantell helped out by taking photos and some great video excerpts (see below).
It really was a special evening, fun was had by all and I think everybody learned a few things too. I want to thank Judy Rodman, our house band (Heston Alley on drums, Tom Good on bass, Brian Lucas on keys) and all the alums who participated and helped make this a special evening, I can't wait for the next one!
The next Nashville Berklee Jam will be held on Tuesday, April 10th at the Fillin' Station with special guest, Reese Wynans, formerly of Stevie Ray Vaughn & Double Trouble. His talk will share perspective on being a lifelong career musician, working with SRV, and the importance of understanding blues and roots music. Please check our website regularly for updates.
I've wanted to take a step with my vocal abilities for some time now and this year seemed like a good time to do it. A few months ago I dug out an old vocal method book, "The Rock 'n Roll Singer's Survival Guide" by Mark Baxter, a vocal coach I had studied with in Boston in the late 90s. After digging into it for a few weeks I came across one of the books many great recommendations – the importance of taking voice lessons from a vocal coach – and that was all I needed for encouragement.
I had recently heard some great things about Nashville-based vocal coach, Judy Rodman, so I decided to give her a try. In early March I took my first lesson at her home studio, a one hour session during which we covered a lot of ground. After discussing my current musical activities and goals, she began the lesson by demonstrating some "mechanics" about the human voice, partially aided by the use of models and diagrams. Then she took me through some warm-ups, all the while listening and observing my "habits." Next, she had me sing a song of my choosing, and this is when it became even more apparent that she had a truly unique approach to vocal training.
After strapping on my guitar, she had me sing into a mic that was plugged into a couple of floor monitors to emulate a live gig. I don't think I sang more than a verse before she told me to stop so she could address some issues. Apparently, years of guitar playing, combined with other "intellectual pursuits" had allowed me to develop some bad posture, posture that was restricting my vocal abilities. To begin correcting this, she had me sing while standing with my head and one heal up against the wall, while allowing my shoulders and back to be loose.
She also introduced some other concepts to improve my vocal "path." One I found particularly enlightening was to pick an object or spot on the wall and imagine that it's a person to whom I am telling a story. Another was to pretend I'm singing to a deaf person, to cause a deeper articulation of the words and phrases.  Yet still another was to raise my eyebrows when I sing, as this expands "the cave" and will allow for a more resonant sound. By the time I left the lesson I was not only inspired to go home and practice, I had made an immediate and noticeable improvement.
Since that day I've taken a half-hour lesson every other week and have made great strides, and I actually look forward to practicing! Like any great music teacher or coach, Judy has a gift for custom tailoring each student's approach and practice regimen; she quickly honed in on my problems and came up with the appropriate exercises and concepts to correct them, each lesson introducing new ones. If you live in middle Tennessee (or anywhere for that matter, as Judy also gives lessons over the phone or via Skype), and are in need of some vocal coaching, I highly recommend Judy, she is truly a vocal coach extraordinaire!
Well that's it for today; it's time to go sing!