Rhett Akins plays Lambda Chi Alpha frat party at Troy University – Friday August 20, 2010
It was about 5:00 PM when we pulled our tour bus up to the newly built Lambda Chi Alpha frat house on this hot and humid summer day in the deep South. The kids greeted us with much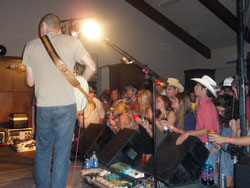 excitement as this party was the first to be held in their brand-new frat house. Upon entering the party room where we would be performing we were a bit surprised at the rooms size – about 30 x 30 with the stage and PA system taking up almost half of the available space. But isn't this what frat parties are all about? Packing as many drunk college kids as you can into a small intimate setting conducive to chaos and mayhem. It was perfect. All the right ingredients were there.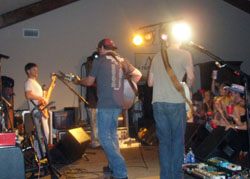 We loaded in our gear, set up, and began our sound check. The Rhett Akins band is as much a rock band as it is a country band, and when we began checking our drums and instruments we were a bit concerned as the volume seemed ungodly in this tiny space. Granted, the room was empty at this point, so we were hopeful that the addition of some bodies would help tame down the volume a bit for the show. This proved to be the case, and by the time we hit the stage for our 11:30 PM start time the kids were raring to go.
"Down South" our typical opening number for shows in this part of the country, rendered us off to a roaring start, and the sounds of the band booming out the open doors and windows began drawing in more patrons from the adjoining courtyard. By the end of our second song "I Brake for Brunettes" the room was packed full and the energy was building by the second. A good-looking crowd, as far as frats go, the front row of folks were right up to the edge of the stage, with several attractive girls dancing and singing along in close proximity for some added inspiration. At one point during the show a couple of cuties hopped up on to the stage, dancing and singing with Rhett for a song.
The festivities maintained a high level of excitement right through to the very end of our blistering two hour set, and by the time we walked from the stage we were all dripping with sweat. We packed up our gear, loaded the bus, and said goodbye to the more than appreciative fraternity brothers. Their house had now been officially "broke in" and it was our honor to bust the cherry for them. Thanks Lambda Chi Alpha – we had a great time!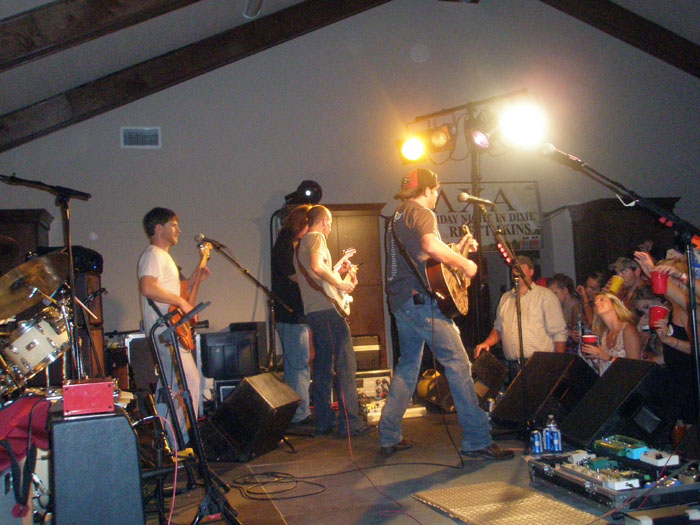 One Response to Rhett Akins plays Lambda Chi Alpha frat party at Troy University – Friday August 20, 2010