Backstage with Rick Nielsen of Cheap Trick: "Got Picks?"
One of the best things about working as a guitar tech on a major tour is that it provides you access to the world's coolest guitar picks. When working on a high profile tour, there will be many occasions when you will share the bill with other national acts, be it award shows, multi-band festivals, and so on. As many artists and band members on this level get their own personalized custom picks by the gross, and their guitar tech is usually in charge of ordering and dispersing these picks, it's only par for the course that the tech will have many opportunities to do a little pick trading with other techs and musicians.
During my time working as a guitar tech for Toby Keith, I came into possession of some real prizes. When we did a handful of shows with Willie Nelson, I traded some Toby picks with Willie's tech and got a Farm Aid pick and a "Willie and The Dead – 30th 4th of July Picnic" pick, a couple of unique rarities. Somewhere along the way I met a tech who had worked with the Allman Brothers, and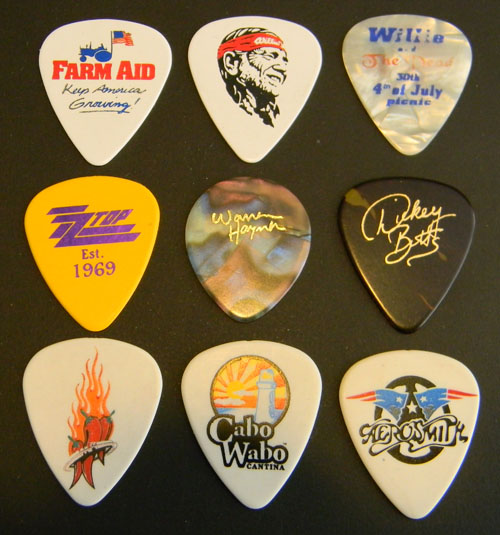 wound up with picks from Warren Haynes and Dickey Betts, two of my favorite guitarists. A few more standouts would be a Sammy Hagar "Cabo Wabo" pick, a Michael Anthony pick, and a rare Aerosmith/New England Patriots Commemorative Super Bowl pick.
Pick trading among techs is common practice and a tradition that goes way back. Some acts and techs are very laid back about their guitar picks, and often will just give you one if you are working on one of these tours and simply ask. Other tours and techs might employ a stricter rule regarding the handing out or trading of picks, only doing so sparingly, or not at all. On the Toby Tour during my tenure, the pick policy was somewhat laid-back, so trading a few picks when a good opportunity presented itself was not frowned upon.
Sometime in the fall of 2003 the tour came to an indoor sports arena somewhere in Illinois. It was just after dinner time when I returned backstage to guitar world for my preshow tuning duties. I had just barely started to dig in when a tall and lanky fellow dressed in a flamboyant outfit approached me. "Hi, Rick Nielsen of Cheap Trick here. I just want to check out what you got." It was kind of dark in the arena at this point, and I was a bit startled by this stark introduction that seemed to come out of nowhere. "I'm Eric, Toby's guitar tech. Good to meet you." I said as we shook hands. He briefly mentioned something about being a part owner of the hockey team that played in the arena, as well as being one of the owners of the arena itself, before taking a brief guided tour of our 22 guitars and basses. He seemed curious, but not overly impressed, which comes to no surprise as I had read that his collection of guitars once contained around 2000.
His demeanor was a little quirky, and his short bursts of fast-paced dialogue continued to keep me on edge. "Got any picks?" he asked out of the blue. "Yes, we sure do." I answered. "Wanna do a little trade? How about 10 for 10?" he asked briskly. This was beginning to feel like some sort of back alley drug deal. "Sure, step on over to my guitar work box" I replied beginning to rummage through the drawers. Before I could even grab one pick from each of Toby's collection for the trade, he had placed his picks on top of the work table. "Here you go." I said a minute later handing him the picks. Not but a few seconds later he barked out in an almost accusatory tone "Hey, there's only 7 here. I gave you 10. What are you trying to do?" and with this I began to have visions of buying a watch from some guy wearing an overcoat in an alleyway. "Oops, sorry. I didn't realize you were actually counting" I awkwardly confessed, and reached into the draw for a few more picks. "Thanks." He stated bluntly, and the picks were no sooner in his hand before he had disappeared from sight around the corner, into the blackness of the night.
Before this night I had traded a lot of picks, but none of my previous "deals" held this kind of weight, this was a first. Most techs don't take their pick trading as seriously as this fellow did. This guy knew what he wanted, and he knew how to get it. You've got to respect that. He drove a hard bargain, and I have the picks to prove it!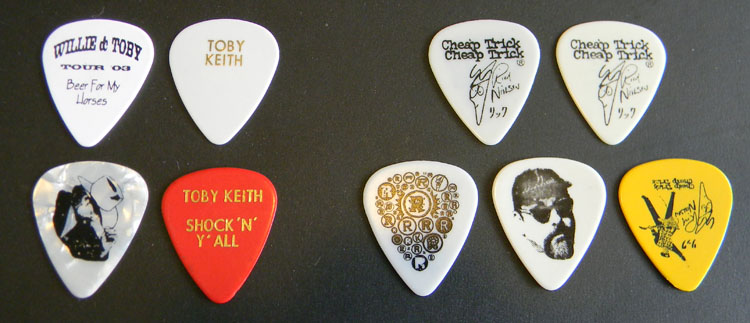 2 Responses to Backstage with Rick Nielsen of Cheap Trick: "Got Picks?"