Clarksdale, Mississippi – Intro and Verse One
The Drive
It was noon on Thursday, September 23 when we left our Pegram, TN home bound for Clarksdale, Mississippi. Our route took us west on Interstate 40 for about 200 miles to Memphis, and while this stretch of I-40 is typically a rather boring drive, on this hot summer day, whatever was lacking in visual stimulation was replaced with anticipation. Although we had done a fair amount of research, we still didn't know exactly what to expect in Clarksdale, so our excited conversations ultimately kept us from noticing that the scenery out the car window hadn't changed much for the first three hours of the trip.
At Memphis we turned south onto Interstate 55 and entered Mississippi, and while the first hour of I-55 wasn't anything visually 
extraordinary, as soon as we turned west on to Highway 278 it felt like we entered a new world. The dense forest that had occupied both sides of the road only minutes before vanished to reveal a wide open view of the Delta plane. Cotton fields stretching to the horizon, cut in two by the road on which we traveled, a seemi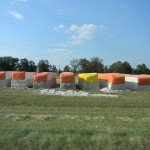 ngly endless road, straight, flat, and disappearing as far into the distance as the eye could see. Aside from other vehicles on the highway, the occasional farmhouse, and farm equipment sparsely scattered throughout the fields, the vastness of this geography was otherworldly. Although this last 40 or so miles was the shortest leg of the drive, our virgin viewing of this fertile Delta plane was empowering and made us feel a bit the wiser, almost as if we were the first explorers to set foot upon a newly discovered continent.
The Shack Up Inn and The Robert Clay Shack
Upon entering Clarksdale, located in Coahoma County, Mississippi, we turned south onto Highway 49 for a couple of miles and found
our way to the Hopson Plantation and the location of the place we would be staying, The Shack Up Inn. As we crossed over some  railroad tracks, several old 'barn-like' buildings covered with rusty corrugated tin came into view, and we passed a row of shacks as we began searching for the lobby. At first glance the main entrance appeared to be a cross between an antique store and a junkyard, and if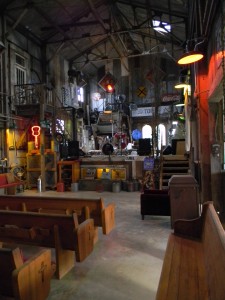 it were not for a small red sign bearing the hand-painted word 'lobby', we might have driven right by. We were greeted warmly by Marc, the woman working at the front desk, and she checked us in while giving us a quick overview of the Inn and some other local attractions. The main lobby is housed within an enormous 'cotton gin', and on the other side of the lobby walls the large open space has been transformed into a music hall. After checking in we took a few moments to explore this magnificent room which featured a stage at one end, and church pews and other miscellaneous seating at the other. After a few minutes of soaking in some very unique rustic folk art, which seemed to cover every square inch of this huge room, we headed over to our shack to get settled.
We fell in love with 'the Robert Clay shack' almost as soon as we set foot within. Blues music, courtesy a small TV tuned to Sirus radio's Bluesville (the only channel available) was playing softly as we took a look around and, like the lobby, this interior was a folk art spectacle as well. As I would later learn from Bill, one of the owners, this is their 'flagship shack', and it showed. A bedroom at one end, a small bathroom, and an open concept kitchen that expanded into a living room all felt warm and inviting. An old church pew made for a bench, a  slightly out of tune piano in the corner, and a screened in back porch only added to the charm. Much of the furnishings and decor looked like 1950's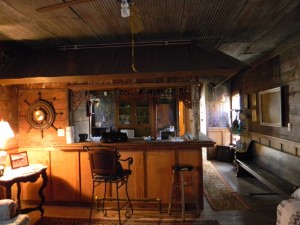 era or earlier, and this is obviously part of the intended experience. Bill would later tell me a little history about this shack.
In another town in Mississippi, a sharecropper named Robert Clay lived his entire life in this humble abode, raising several sons by himself. When he was an old man, his sons, having moved out many years prior, tried to get him to leave this place and come live with them but he refused. He died an old man in the home in which he lived most of his life, and sometime after his death the shack was moved to it's current location. After renovating the main body of the shack, the workers, upon exploring the attic to install duct work, discovered a whiskey still, making at least one reason apparent as to why Robert refused to leave. This kind of history just can't be had at a Holiday Inn or Best Western and only added to the mystique.
One Amazing Sunset
After getting settled in and eating dinner we decided to walk around the grounds for a bit to take in some sites. While exploring the courtyard, the sun began to set on the distant horizon. We stood in wonderment as the sky transformed through a myriad of colors while the sun grew bigger and bigger before disappearing beneath the edge of the earth. In the last few moments before it became invisible beneath the horizon, the sky was on fire and time seemed to stand still. We took a few pictures to preserve the moment, and even though the photos are quite striking, it seems that some magical moments are intended for a single moment in time, coming and going like a breath of wind.
Blues Jam at Ground Zero
A little while later we headed out to the Ground Zero Blues Club, co-owned by Coahoma county resident Morgan Freeman, in downtown Clarksdale to attend the weekly Thursday night blues jam. This week it was being hosted by a local favorite, Big Anthony, and he was already on stage playing some fiery blues with his band when we walked in. Walking into a dark and unfamiliar night club with my guitar slung over my shoulder is something I've done many times before, but on this warm summer night in the deep South I must admit I was a little nervous, at least initially. The doorman was friendly enough, as was our waitress, and we gradually began to feel more comfortable after ordering a couple of beers and enjoying some of the show. Big Anthony, backed by a strong rhythm section of bass and drums, was playing some authentic Delta blues, his deep voice full of character, his guitar playing driving and relentless.
They took a break and then got up the first jammer, an older gentleman on vacation with his wife from Canada. After loaning this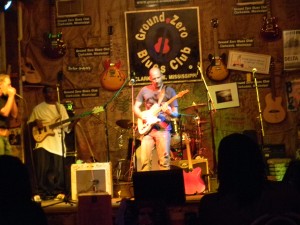 fellow his guitar for a couple of songs Anthony returned to the stage and called me up. Backed by the house drummer and bassist, I ripped through 'Done Somebody Wrong', 'Goin' Down', and 'Rock Me Baby', and was quite pleased to receive a response that was somewhat over-the-top. Before leaving the stage, I announced that it was Kelly's birthday and that we had come to Clarksdale to celebrate it, and several people applauded. As I exited the stage I got several compliments from other musicians who were waiting their turns in the wings. A few minutes later I walked over to the bar to get another beer and an older woman said to me "You were really good, but you don't look like a blues musician." "Blues musicians come in all shapes and sizes." was the clarifying response I gave her before returning to my seat.
By this point we were starting to get kind of tired so we headed back to the shack. Our first day of this three-day trip drawing to a close, we sipped a beer on the back porch reminiscing our experiences. So far, this little town of Clarksdale had been a wonderful host, and we turned in for the night, excited for what Friday might bring.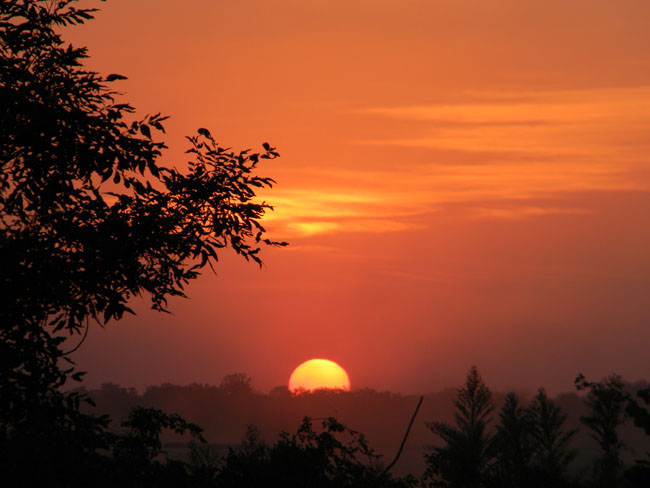 One Response to Clarksdale, Mississippi – Intro and Verse One