Endless Boogie Rocks the Fillin' Station – A Little Music for the Soul (Part Two)
Saturday night was the first outing for my new band 'Endless Boogie', and fun was had by all who ventured out to party with us at the Fillin'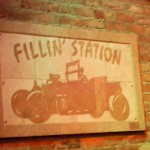 Station in Kingston Springs, TN. The club, owned by Patrick Weickenand, was the perfect setting for my long awaited rock n' blues experiment. Small, intimate, and loaded with character, the club is housed in an old garage right out of yesteryear, hence the name, and a favorite watering hole for the locals on the west side of town.
Our trio started out with a couple of instrumentals to get things going before switching to some vocal-based tunes. The place wasn't  too busy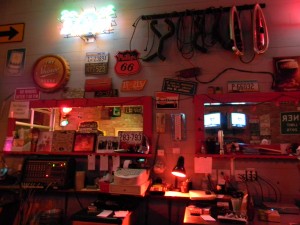 during our first set, so Patrick, who was working the bar, had time to sit in on harp for a few tunes in between slinging beers. Patrick is one of the nicest guys you'll ever meet, and undoubtedly contributes greatly to the warmth and charm of this unique place. Anyone who has ever played the Fillin' Station knows that Patrick is a great harp player, and he's frequently requested to 'sit-in' from behind the bar with many a band. So several times throughout this night he joined in for some fun jams (check out the video below).
Fran Breen (drums) and Mike Chapman (bass), aside from being good friends of mine, are seasoned pros and I was thrilled to have them on the gig. Talk about groove, boy these guys can lay it down! I had an absolute blast playing with them, and we plan to do this on a regular basis, schedules permitting. As of right now our next outing will be Friday, December 3rd back at the Fillin' Station.
By the third set, the place had erupted into a full-blown dance party which held through to the end. People were even dancing on Whipping Post (if you've ever tried to dance to this song you know why this is significant). All in all it was a triumphant beginning to this new project, a project born out of my need for "a little music for the soul".
3 Responses to Endless Boogie Rocks the Fillin' Station – A Little Music for the Soul (Part Two)