Eric Normand and Endless Boogie – A Little Music for the Soul
As a professional freelance musician working and living in Nashville, much of the work I perform is for other people's entities, as is true for many hired guns. I'm not complaining mind you, this is how the bills get paid. My regular gig as tour manager/guitarist for Rhett Akins occupies many weekends throughout the year, and sporadic nightclub gigs and songwriter recording projects help to fill in the gaps. As rewarding as some of this work can be, it all comes under the heading of 'gun for hire' which means I must meet somebody else's expectations, as they are footing the bill, often adjusting my musical tastes and desires to fit the gig.
So whenever it's feasible, I take on gigs purely for my own musical expression, a little 'music for the soul' as I call it. Now that fall is here and the annual touring/festival season is drawing to a close, I'll have a little more time for these kinds of endeavors. With that, I'm excited to tell you about my new project – Eric Normand and Endless Boogie. The concept of this band is simple. I will play only music that I enjoy playing, with people whom I enjoy playing, in venues that are enjoyable to play.
Growing up in the 70s and 80s I always looked back a few years to find my musical heroes; Jimi Hendrix, the Allman Brothers, ZZ Top, John Lee Hooker, and to this day this is still some of the most expressive music I ever play. So in my new Nashville based 'fun band' that's just what were going to do. The song list will contain Hendrix classics like Little Wing, Voodoo Child, and All along the Watchtower, Allman Brothers classics like You Don't Love Me, Ain't Wastin' Time No More, Melissa, and Whipping Post, classic blues songs like Freddie King's Going Down, John Lee Hooker's Hug You, Kiss You, Squeeze You, and even a few of my favorite instrumentals by Miles Davis and The Meters. Needless to say, we will put our own spin on these.
As I live in Nashville, and this kind of song list will not command top pay, getting great players to commit to a gig like this isn't easy. All the best players are usually pretty busy taking the most lucrative gigs offered, and even if you get them to commit, something always seems to come up. So you either have to have two or three players deep on each instrument that know your material, or you have to wait till the last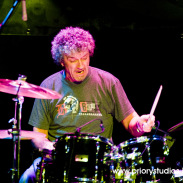 minute to book the players. I got real lucky for this first outing of Endless Boogie as a couple of my good friends, Fran Breen and Mike Chapman, just happened to be available.
Fran Breen is a world-class drummer from Ireland that has worked on and off in the Nashville music industry for over 20 years. He's played with a few major artists like Lucinda Williams, Nancy Griffith, Shelby Lynn, and is also an accomplished session drummer having played on countless projects over the years including the soundtrack for the movie "The Commitments" . He's a top notch groove machine, especially when it comes to blues and funk, and I'm thrilled to have him on the gig. (Plus he is really funny and has the coolest Irish accent.)
Mike Chapman is one of the best bassists Nashville has to offer, and another ace in the hole who happens to be a good friend of mine. Mike's first big gig was with Hank Williams Jr. in the early 80s, since which time he has played on innumerable A-list recording sessions ranging from literally all of Garth Brooks recordings to Leanne Rimes, Brooks & Dunn, Huey Lewis and countless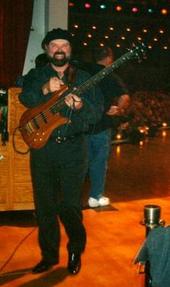 others. Mike has played bass on over 30 number 1 singles and the albums that he has played on have sold over 150 million copies. If it sounds like I'm bragging a little bit about these guys, it's because I am. I mean how often does one get to say "My drummer played on the Commitments soundtrack"  or "My bass player has been heard on 150 million albums"?
The last ingredient for my first outing with 'Endless Boogie' is a fun venue in which to play. The Fillin' Station, located on Main Street in Kingston Springs, is the perfect venue for an intimate night of exploratory rockin' blues and funk jams. While playing on big tours in front of thousands of people can be exciting, sometimes the finer points of the music get lost in the 'bigness' of those events. To this day, my favorite musical settings are small to midsize nightclubs, for it is in these small-town bars and juke joints of the world where the magic really happens. The Fillin' Station is owned by Patrick Weickenand, former member of Eric Burdon's band 'War' and one of the nicest guys you'll ever meet who also blows a mean harp from behind the bar from time to time. The club is small but comfortable, and has an adjoining outdoor patio which fills up with locals on many a night. The club is just 25 minutes from downtown Nashville (exit 188 off of I40 west) and features live music four to five nights a week year-round, never with a cover.
I've been wanting to put together a group like this for a few years now, toying with the idea periodically, but never quite getting organized enough to make it happen. But I've realized that this is just what you have to do in Nashville, you have to find a way to not lose sight of your own vision even while you spend most of your time working for other people. My musical dreams at this point of my life are quite simple, I want to play the music that I love to play, the way I want to play it, hopefully taking a few others along for the ride.
So that's it, all the essential ingredients are in line for an expressive night of music – songs I enjoy playing, people I enjoy playing with, and a place I enjoy playing at. Our show will be this coming Saturday, October 16 from 7:00 to 11:00. I'm really pumped for this show, so if you live in the Nashville area come on down for a night of Endless Boogie!