Live at Libby's: Country Music Basic Training: Part 2
It was the fall of 2002, I'd been in Nashville for a few months, and had just landed a weekend house gig at Libby's Steakhouse in Kentucky, a great country music venue in which I could hone my chops. I was spending most of my days selling stuff on eBay, driving around to pawn shops looking for more stuff to sell on eBay, and practicing, practicing, practicing. My recent debacles on Broadway and at a recording studio on Music Row revealed to me that I had a lot of work to do, and this prompted me to get really organized about my practice regimen. While I was still going to downtown Nashville one or two nights a week to network, making the Tuesday night jam at the Fiddle and Steel a regular stop, these weekly outings on the town mainly served to build connections, not so much to sit-in. I needed to improve my country chops quite a bit before I would be comfortable enough to put myself out there on the chopping block again.
So every Friday around dinnertime I would set out for Daysville, Kentucky, sometimes accompanied by my wife, sometimes not. Each weekend outing at Libby's would introduce me to new material, and I would obtain recordings of these songs to work on over the following week. In addition to learning these songs and other standards I heard around town, I was digging in hard to my technique in general, practicing country rhythm, chicken pickin', Western swing and, to avoid losing any ground, a little rock, blues, and jazz as well. A friend of mine had given me a CD of some old-school country tele players, Bill Kirchen and Redd Volkaert aka the Twang Bangers, and I listened to and tried to mimic their lines, style, and feel. I also did the same with recordings of Alan Jackson that featured Brent Mason.
To create a challenging way to practice all these new techniques, I burned a mix CD comprised of several country, western swing, and bluegrass tunes. The 11 song guitar workout CD covered nine different keys, a variety of tempos, and several different feels (straight eighths, swing, etc).
| | | |
| --- | --- | --- |
| Key | Song | Tempo/Feel |
| D | Goodhearted Woman | slow eighths |
| E | Folsom Prison Blues | medium eighths |
| F | Truck Drivin' Man | fast eighths |
| Bb | Chase Each Other Round the Room | medium swing |
| G | How Mountain Girls Can Love | fast eighths |
| Ab | Workingman Blues | medium eighths |
| A | Poultry in Motion | medium eighths |
| G | She Loves Anything | fast eighths |
| Bb | White Lightning | medium eighths |
| B | I Don't Think Hank Done It This Way | medium eighths (Waylon Stomp) |
| F | Quit Feelin' Sorry | medium swing |
Prior to moving to Nashville, I had never used the chicken pickin' technique, and as it was the weakest link in my chain, it was the technique I practiced the most. This technique is a hybrid way of picking the strings on a guitar. Holding the pic between your thumb and first finger,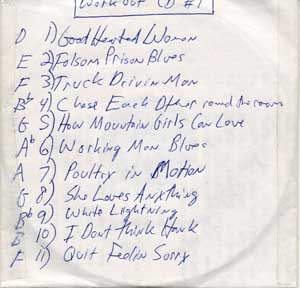 you alternate between picking the strings with the pic, and plucking the strings with either the third finger or second and third finger. This is also commonly referred to as "the claw". Both rhythm and lead lines can be played with this technique, and practicing along with this CD, without pausing in between songs, somewhat emulated the pace and variations that might happen while performing with a live band.
Every day I worked diligently in my basement music room, practicing country music standards and technique. I would practice until my right hand felt like it was falling off, or until I felt like throwing my guitar through the window, always managing to stop just prior to either thing happening. My improvement was slow, but steady, and gradually the other players at my weekend gig began to notice. I would practice and do the eBay thing all week long, go downtown to network for a couple of evenings, and head off to Kentucky for the weekends.
Libby's was a family kind of place with a relaxed atmosphere and served no alcohol. But this didn't stop some of the band members, me occasionally included, from sneaking a beer or two out back before the shows and during breaks. Hey, we were playing country music at a steakhouse in Kentucky; I don't think Merle or Hank would disapprove. In all fairness to Libby, who was trying to run this show as professionally as he could, everyone seemed to keep the Budweiser buzz to a dull roar, always making a strong performance the priority (okay, maybe a few times the steel player got a little too loopy and hacked a little). But Budweiser or not, we had a great time. The players and the guest singers always gave it their all, and the crowd, no matter how big or small, always showed appreciation.
I worked at Libby's for about four or five months through that fall and winter and, in hindsight, it was the best thing that could have happened to me at that point in time. By early spring I felt ready to dig in full bore to the country scene in Nashville and gave my notice. Libby understood why I had to leave, thanked me for my time, and wished me luck.
A couple of years later I was gigging at Tootsies and ran into one of the girls who had been a regular guest singer at Libby's. Sadly, she informed me that Libby had just passed away at the age of 65. We reminisced about what a great time we always had back in the day, and how much he had cared about music and people. Libby was a sweet old guy and had treated me with the utmost respect. He gave me a chance when I needed it. I will always look back on those days with fondness, and will be forever grateful to have known Libby Knight.