"New to Nashville" Berklee Alumni Reception
Berklee is alive and well in Nashville! On Monday, November 7 we had our first "New to Nashville" Berklee alumni reception at the NSAI studio on Music Row, and the event was a huge success. Upon the suggestion of Berklee Alumni Affairs Officer, Karen Bell, I put this event together to welcome alum's who recently relocated to Nashville.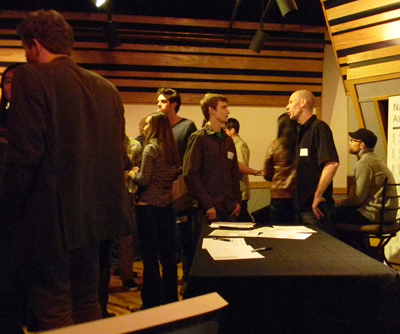 The reception was a three stage event. The meet and greet gave recent transplants a chance to reconnect with their fellow classmates while forming new relationships with some of the alumni who have already been here a while. From what I could tell, out of the 40 or so in attendance, at least half were new arrivals.
After about an hour, everybody took their seats and I gave a brief talk about my Nashville experiences. The talk evolved into a pretty good group discussion, with lots of questions about networking in Nashville. Most of my experience in Nashville has been in the areas of touring, gigging around town, and recording, and most of this discussion centered on these issues.
One alum asked about what clubs and situations would lend themselves for sitting-in with bands. Sitting-in is a great way to build your reputation while making connections that might lead to gigs, and I mentioned a few that are worth checking out – The Fiddle and Steel has a player-friendly jam every Tuesday night; Douglas Corner has "The Loud Jazz Players Jam" every other Monday night; and there are also a few blues jams around the city including one at Carol Ann's Café on Sunday nights, and The Fillin' Station on Thursday nights. I also suggested becoming a regular at some of the clubs on Broadway, as this is also a good place to meet players who are gigging regularly.
Rich Redmond, one of the contributors to my book "The Nashville Musician's Survival Guide", has one piece of great advice he gives to players who are new to town, and I passed this advice on in response to a question about evolving a music career in Nashville – "Be patient, and take every gig that is offered". Every gig will potentially lead to more gigs, and no matter how unimportant some gigs might seem, you never know where those roads might lead.
We paused briefly after my talk to give everyone a chance to stretch their legs and grab some more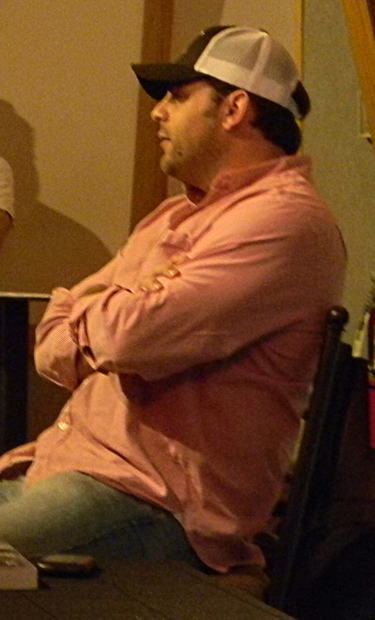 refreshments. Then everybody settled back down into their seats and I proudly introduced the night's final speaker – country music artist, hit songwriter, BMI songwriter of the year, and my current boss, Rhett Akins. For those of you who aren't in the know, Rhett is currently one of the hottest songwriters in Nashville, and he shared some great perspective, stories, and advice for all of the songwriters in the room (and judging by a show of hands a little earlier, at least half of those in attendance had come to Nashville to pursue careers in songwriting).
After Rhett's brief talk about his evolution as a songwriter and artist he also engaged in a group discussion. He spoke candidly about different aspects of being a Nashville songwriter. The Nashville uniqueness of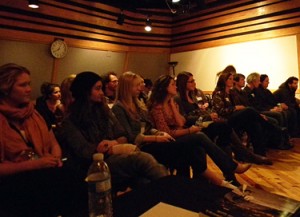 co-writing, the pros and cons of publishing deals, and his lifelong passion for music and songwriting were some major talking points.
Some of the perspective he shared that I found most interesting was the sheer number of songs that he writes, stating "I pretty much write at least one song everyday" and that to wind up with five hits songs, he's probably written 500 songs. He also said that he and his co-writers try to finish a song during each writing appointment, but that he is also interested in experimenting with writing some songs over a longer period of time, noting that "it took Gregg Allman three years to write Melissa". After his talk concluded he stuck around for a while, giving those who were interested a chance to speak with him one-on-one.
All in all, the event accomplished what we had set out to do. Some of the newest arrivals to Nashville got a chance to reconnect with former classmates that they didn't even know had moved here, others made new friendships, and many, myself included, got new insights into the ever-changing world of the Nashville music biz'.
I would like to send out a special thanks to the following people for helping make this event a success: Rhett Akins, Karen Bell, Emily Dufresne, Dave Petrelli, Meg O'Brien, NSAI, Berklee, Heston Alley, and Kelly Normand.
Epilogue: I met with Alumni Programs Officer, Emily Dufresne the following afternoon for coffee, and we discussed an idea I had about organizing a monthly "Berklee Alumni Networking Jam". More info on that will be coming soon!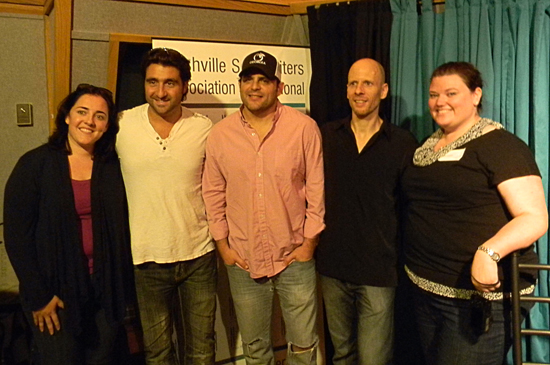 From left to right: Meg O'Brien, Dave Petrelli, Rhett Akins, Eric Normand, Emily Dufresne

One Response to "New to Nashville" Berklee Alumni Reception