Pick a Night, Book a Gig, and Go Make Some Music With Your Buddies
The ever churning music scene of Nashville can be kind of quirky. Even though it has downsized a bit since its heyday of the booming 90s, it's still a constant flurry of activity, with thousands of musicians of all levels and backgrounds continually searching and on the move. Searching for gigs, connections, opportunities, and quite often, searching for a pathway to a success that has yet to be defined. We're all on the hunt for something more.
That's how I felt when I first moved to Nashville, nearly 10 years ago. I didn't really know exactly what I wanted to do here; I just knew I wanted to accomplish more than I had in my previous life as a nightclub performer and music teacher in New England. I can remember the sense of impatience and anxiety I felt during that first year, the endless thirst for musical activity – no gig was too big or small.
As a fresh arrival in 2002, I knew very little about how this place worked and relied on my friend and mentor "D" to fill in the blanks. "If you are looking for paying gigs, the country scene is where it's at. It's pretty much a freelance scene, but that's where you'll make the connections you'll need to survive. Just get out there and start hitting the clubs and get to know people, sit-in whenever you can. But whatever you do, don't join a band, bands starve." All sound advice coming from a successful player who had already been here for 10 years.
"I'm really into blues and rock. Is there a scene here for that? I asked innocently. "There is, but you're going to go broke if you only play that stuff here" was his reply "Plus you'll get pigeonholed". "Well if all this activity is basically hired guns, how do you just have a band for fun?" I asked, not wanting to accept this new fate. His solution was so simple – "After you get to know and become friends with some good players, just pick a night, book a gig, and go make some music with your buddies."
While his advice made a lot of sense, it would take years for me to fully realize this new potential. I began digging in to the scene, networking, sitting in, and this approach worked. I played hundreds of gigs around the city during those first couple of years – Broadway gigs, Printers Alley gigs, gigs on the outskirts, showcases – you name it I played it. These gigs eventually lead to touring work and a couple of years later I began playing on songwriter demos too.
Now it's 2011 and I've been here for nearly 10 years. I can't believe how fast time flies, the last decade was a blur of endless activity. I didn't move to Nashville to become a superstar or a songwriter, I came here to work as a player, and I've succeeded in that endeavor. I make my living (or the bulk of it) as a freelance musician, something I was not able to do prior to my Nashville days.
But something has still been missing and I just recently figured out what it was. I haven't been playing music enough for the sheer joy of it. Nearly all of my music career dreams have come true. I've played in every state in the lower 48, Canada, parts of Europe;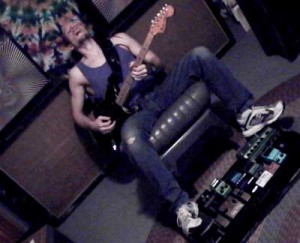 I've learned how to play guitar on recording sessions; I'm good friends with some of the finest musicians on the planet; I'm earning a living from my craft. But where's the self-expression within all of this? Don't get me wrong, there's plenty of good music involved in what I do. But a lot of the music I do for pay is the result of somebody else's expression, and at times, lacking a personal connection to me.
So last fall I finally decided it was time to follow ol' Ds advice – "Pick a night, book a gig, and go make some music with your buddies." I'm not sure if it's just because I'm getting a little older and my priorities are changing, or because working as a freelance musician allows you to be a part of everything, without actually belonging to anything, but making some music for the soul on a regular basis with my friends is now a big priority for me.
While I'm making my living as a hired gun within the country side of this town, I have a new found love for my side project "Endless Boogie", a band project that has no goal other than to simply provide me and my buddies with a night or two a month of self-expression through fun music. My good friends Fran Breen, drummer extraordinaire originally from Ireland (with the accent to prove it), and Mike Chapman, bad-ass bassist and member of Garth Brooks' famed session band, the G-Men, were the first players I called for the gig. Even though they've both been here far longer than I, perhaps their love of just getting out there and playing is even more telling about working as a career freelance musician long-term.
A few months ago, when we did one of our first gigs at the Fillin' Station in Kingston Springs, another player that new Mike walked in mid-set. He seemed surprised to see Mike on this "outside the microscope" gig and asked "What are YOU doing here?" Mike's reply was honest and telling – "I'm playing."
To me, this simple exchange says it all. What should have been obvious to the other fellow wasn't. Not every gig has to be about money, prestige, or opportunity. While my buddies and I know the importance of a little music for the soul, it is easy to understand how a lifetime of working in the music industry can change that.
So what are you waiting for?
"Pick a night, book a gig, and go make some music with your buddies."

Endless Boogie will be playing tonight, Tuesday, January 18 at the 12 South Tap Room, located next to Mafioso's on 12th Avenue South, Nashville, TN. The show starts at 9 PM and we will be playing some of our favorites from Hendrix, Allmans, Santana, Muddy, and Miles, plus a few of our own. The tap room is one of the coolest "non-Nashville" bars in Nashville and has a great menu, friendly staff, a whole bunch of fancy beers on tap, and never a cover.
12 South Tap Room
2318 12th Ave South
Nashville, TN 37204
615-463-7552
One Response to Pick a Night, Book a Gig, and Go Make Some Music With Your Buddies