Rhett Akins at Old Threshers in Shelbina; What's a Little Mud When You've Got Friends with Tractors?
This past weekend was one of the last outings of the 2010 festival season for Rhett Akins and gang. Like many things in life, outdoor festivals are like a potluck dinner – you never know what's under the lid of that next casserole dish. That goes for not just the event itself, but to the friend and foe of every outdoor show – the weather. We'll get to the weather debacle in a minute.
The event we would be playing on this eve was 'The Old Threshers' at the Shelbina Fairgrounds, in Shelbina Missouri. For those of you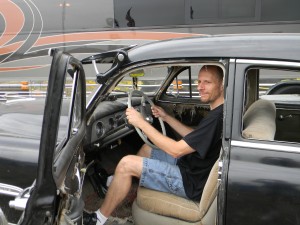 not in the know, an old threshers event is kind of a fair with a tractor theme, and this event sported some rare old beauties right out of yesteryear. After parking our bus and getting situated, we took a walk around the fairgrounds to see the sights. We didn't get but 5 feet from the bus door when the first spectacle presented itself in the form of a 51 Chevy, the owner of which notified us that this vehicle was ours to use for the day. Who needs a runner when you've got a 51 Chevy at your disposal! After a few minutes of checking out and photographing this rarity, we set out on foot, camera in hand.
Right around the corner we stumbled upon a bluegrass band consisting of a couple of fellows on acoustic guitars, two banjo players, a woman playing a mandolin, they even had a wash tub base. They were pretty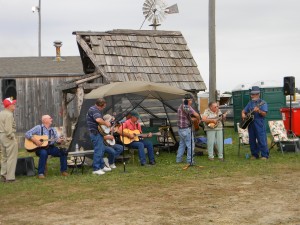 good too, and we stopped to listen for a few. It was then on to the blacksmith shop where we checked out some fine metal crafting by some locals. We dodged a few big tractors on the way over to an old schoolhouse, passing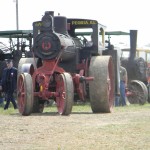 through an Amish village along the way. The old schoolhouse reeked of personality, circa late 1800s/early 1900s. As some kids were writing on the blackboard we took a look around, snapping a few more photos. This part of the day actually felt more like a class field trip than it did a gig. It was now getting to be time for load in, so we returned to the stage area to get to work.
After our gear was loaded onto the deck, we set up and went about our sound check. Once we got it dialed in pretty good we took a few minutes to learn one of Rhett's most recent songs, 'Chicks, Trucks, and Beer', a catchy little ditty with a funky beat he wrote a couple of days prior. It was then off to the hotel for showers, and this was when the weather started to go downhill. The sky grew dark, almost as black as night on the horizon, the wind picked up, and a short while later a massive downpour ensued. People were leaving in droves as we received over an inch of rain in about 45 minutes. Back on the deck, stagehands and local crew scurried to tarp the equipment, but nothing could be done to prevent the rest of this once dusty Fairgrounds from becoming one gigantic mud pit.
After the rain stopped, tractors began scraping down the mud in front of the stage. Underneath the mud was more mud, so they had to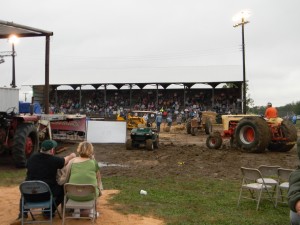 bring out bales of hay and spread straw to create acceptable conditions for the concertgoers. They also ran a series of boards for us to walk on from the stage to the bus (yes, the mud was actually that bad). Despite these obstacles we weren't going to let a little rain and mud ruin this day, and by 7:15 the opening band 'Little Dixie' was taking the stage. Even though the deluge had run off a good portion of the festival attendees, there was still at least 1000 or so that stuck around for our show. At 8:15 we were off and running and about three songs in Rhett played 'Friends with Tractors' an obvious crowd pleaser for an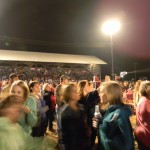 event such as this. The crowd was responsive and singing along, despite a strong prevailing wind that was a bit overbearing at times. About an hour into our show some massive lightning strikes began to appear on the horizon, so we did a couple of more songs to finish our set.
Our show complete, we tore down our gear and found our way over to the 'Bluegrass Barn' where the afternoon band was engaged in a little 'pickin' and grinnin' after party. Rhett even sat in for a couple, leading the band through the Hank Williams classic 'Honky-Tonkin' and a couple of other rarities. The spirits were high, and everyone from this nice community made us feel right at home. A little while later, Steve made a mad dash with the bus across the muddy field, tires spinning every inch of the way. When we finally made it to the street, he made a big sigh of relief, perhaps having flashbacks of having to be towed out of a mud bog in Alabama earlier in the summer. Even if we had got stuck I wouldn't have been too worried, at this show we definitely had 'friends with tractors". A  few minutes later, and we were rolling down the highway. Thanks for making it a great event Shelbina!
5 Responses to Rhett Akins at Old Threshers in Shelbina; What's a Little Mud When You've Got Friends with Tractors?