Rhett Akins Tour 2010 Wraps up with Two Shows in Texas
October 8, 2010 – Dallas, Texas
We left Nashville Thursday at midnight, bound for two shows deep in the heart of oil country, the first being at the oversized dance hall, Cowboys Red River in Dallas, Texas. Our regular bassist, Clint Jacobs, absent on this particular run, I sat in the front lounge chatting with his sub, friend and longtime Nashville veteran, Mike Chapman for a bit before heading to bed. This trip would normally take about 10 to 11 hours, but at about 5 AM I awoke and realized we had been stopped for a little bit. I drifted off for a while and when I got up around 10 I learned that Steve, our bus driver, got stuck in a massive traffic backup for three hours in the middle of the night, the result of an overturned tractor-trailer that had blocked the interstate. Scenarios like this are why we always allow for extra travel time on these trips. Nevertheless, the extra three hour wait added on to the middle of this 700 mile drive had left Steve exhausted, and we finally pulled into Dallas around 1:30.
As we entered the dark Honky Tonk, we noticed that musky stale beer odor inherent to these kinds of places, the kind of deep rooted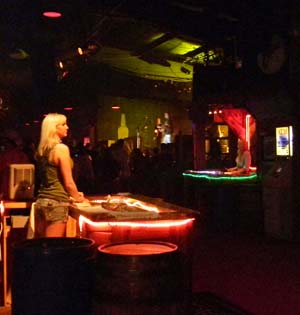 lingering odor that takes decades to create, and while barely noticeable amidst the hustle and bustle of nighttime business, is almost overbearing during the empty daytime hours. While we were setting up, Rhett had the runner take him on a brief tour Dealey Plaza, the infamous location of the assassination of JFK. A little while later he returned with some memorabilia, as apparently a JFK assassination history buff has some kind of 'merch table' at this location. I'm not sure if this is somebody's desire to inform the masses of this tragic conspiracy, or simply capitalism at its worst. (Maybe it's a little of both.)
Other than watching a little bit of a fascinating assassination documentary, the rest of this day, and night for that matter, were rather uneventful. I wish I could say that it was an exciting memorable show, like most of our shows, but it wasn't. The audience just kinda laid there. Don't get me wrong, the 1500 or so in attendance danced and drank, and even made some noise after some songs, it was just one of those nights that felt like it never quite got there. I later reiterated to Rhett one of the tour's  long standing inside jokes "Out of all the shows we've ever done together, that was definitely one of them."
Onward to Baytown
Baytown is a suburb of Houston, and a city of roughly 80,000 deep in the heart of oil country. We arrived to a hotel parking lot in the wee hours of the morning and taxied the bus over for load in around noon. On the previous day, everything had gone according to plan with no surprises, while this day would turn out to be full of surprises, the first being my discovery of a miscommunication regarding our 'bus stock'. Our bus stock is a list of beverage and food items which appears on our rider, and is required, in most cases, to be delivered to our bus upon arrival as it serves to be lunch for our crew. I never got the memo that they wouldn't be providing this and, fortunately, they were gracious enough to send somebody for it at the last-minute.
The next surprise came a couple of minutes later when the event coordinator informed me that they were having problems with the rented generator. It turns out that the generator rental company arrived earlier in the morning to drop off the generator, and then left without showing anybody how to work it. Around the same point in time I was introduced to the house sound technician whose introduction consisted of "Glad to meet you, I hope you brought a lot of patience with you because we're running way behind." "Glad to meet you too." Next would come what was perhaps the biggest hurdle we would have to overcome on this day that was quickly evolving into what I commonly refer to as "a challenge" otherwise known as a good old-fashioned pain in the ass. That being, the stage from hell.
Upon setting foot upon this tin nightmare, I was baffled to see a gaping four-inch wide "space" that ran lengthwise across the 30 foot stage at about 5 foot intervals. "Well that's a great way to break an ankle if I've ever seen one!" I commented to the promoter, who acknowledged "Yeah it is, I didn't notice that before." To make matters worse, a round piece of steel pipe protruded upward from this "space" at 6 foot intervals, serving as a strategic array of would-be landmines for everybody to trip over for the day. After some discussion with the promoter, we determined that we needed some rubber mats or plywood to place on top of this unsafe deck. A little while later I discovered a huge role of thick old industrial carpet backstage and, while it initially looked like it might serve our purpose, I quickly discovered that it was full of "fire ants". I also learned, very quickly mind you, that fire ant's bite! The bites on my fingers and hand still swollen as I write this.
One of the event coordinators suggested some four by eight sheets of rubber matting and, after I concurred that it might work, he set out for Home Depot. Around this time, I asked Scott, our other guitarist and part-time "Macgyver" if he could try to figure out the generator issue. A little while later a truck arrived with 10 sheets of rubber matting and I began to direct some stagehands to help 'rubberize' our stage while Scott dug into the genie. A couple of hours later and the stage was covered with a solid rubber matting (we had to cut holes for the protruding steel pipe with a drill and utility knife), Scott had brought the generator to life, and we began our load in and sound check.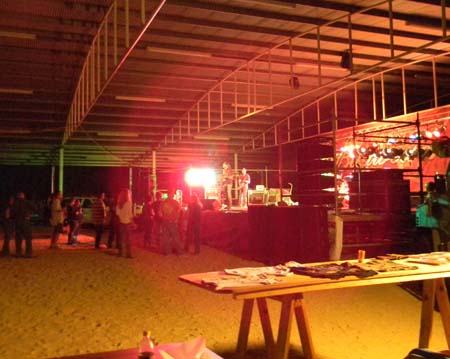 After the sound check, we all feasted on some locally famous barbecue, and went to the hotel for some downtime before the show. I returned to the venue around 7:30 hoping to catch some of up and coming and Nashville based Matt Stillwell's,  set. Unfortunately, because one of the other acts, George Dukas, was running late, their performance times were swapped, and I arrived after their show had already ended. We began our show at 9:30 on the dot, surprisingly right on time considering the chaotic mess of the day we had just encountered. This event was the annual "Helping a Hero Benefit" put on by the Baytown Police Department, and served to help raise money for a fund for families of officers lost in the line of duty. While the attendance was less than desired, the quality of the audience was anything but lacking. A handful of town folk that did show up spent quite a bit of money on some big dollar auction items for this great cause and stayed for the entirety of our 90 minute set. Mike Chapman, who had only played with us on a couple of other occasions, nailed the show to the floor, his 3+ decades working in the Nashville music industry recording with such giants as Garth Brooks, LeeAnn Rimes, and countless others, no doubt aiding in his proficiency.
This stressful day came together as the result of a lot of teamwork. Scott, with some background in electronics, was apparently the only person on site possessing the knowledge it would take to make that generator come to life and power the show. The Baytown police went and purchased the rubber mats for the stage. Our bus driver, Steve provided some of the tools that were necessary for our rubber stage modifications. Matt Stillwell and band was gracious enough to perform their show two hours ahead of schedule.  In hindsight, it's funny, even kind of ironic, that while the day before had gone so smoothly, and it's show had felt so sluggish (despite a crowd of almost 2000), that this difficult day, despite its low attendance and being full of problems, delivered a concert experience that was far more rewarding. Put these two wildly different events and shows together and you wind up with one great day and one great show – A fitting end to our 2010 touring season.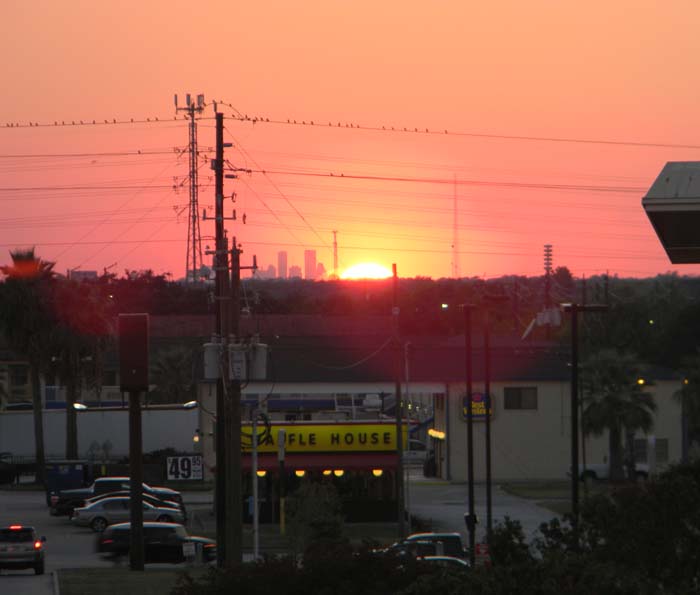 4 Responses to Rhett Akins Tour 2010 Wraps up with Two Shows in Texas