I can't tell you how excited we are to be finally about to embark on our first trip to our native homeland of New England in seven years. I'm sorry we haven't gotten back sooner, it's not because we haven't wanted to, it just seems that whenever we've had the time we didn't have the money (we call this Nashville winter), and when we've had the money, we didn't have the time (Nashville summer). So this year, with my 25th high school reunion taking place at the end of July, we decided this was the perfect excuse we needed to block out a week in the middle of the summer and pay our old friends a visit.
Somewhere in the middle of planning this trip I got the idea to do a clinic at "The Music Workshop," a music store in Salem, NH that I used to frequent in my younger days. My idea was that this would be a great way to share some of my Nashville experiences with my peers in New England, while, of course, promoting my new book "The Nashville Musician's Survival Guide." I'm not sure how this happened, but before I knew it, I was booked at four different workshops throughout New England (some of you may have noticed my recent series of Facebook event invitations). With all this activity evolving I thought it would be cool to throw in a special show with some of my musical comrades from back in the day, and this has led to the Eric Normand and Friends Reunion Concert at Wally's Pub on Hampton Beach, on Wednesday, August 3rd at 8:00 PM.
There is a complete listing of all these workshops and events with addresses and weblinks on the new events page of my survival guide website. Here is the longhand version plus some info that's not on the website:
Wednesday, July 27, 6:00 – 8:00 PM
The Nashville Musician's Survival Guide Workshop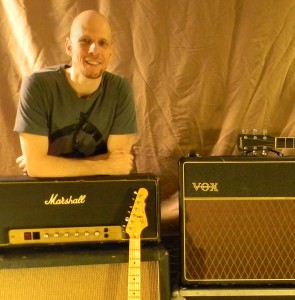 Ralph's House of Tone, Dover, NH
During this workshop I will talk about what it has been like to work as a "hired gun" in the Nashville music scene, what it's like to work on a national level tour, and some of the key differences and similarities between being a working musician in New England versus Nashville. There will also be a "Nashville guitar rig and style demonstration" and question and answer period followed by a book signing immediately afterwards.
Jam at the Station House in Dover
After the workshop, (which is free to the public) I will be attending a jam at The Station House Restaurant and Pub right down the street. The Station House usually has a jam on Thursdays, but when I contacted my old friend, Rick Landry, inquiring about any area jams on Wednesdays, he decided to put together this special jam just for this occasion, and I must say that I am quite honored. This jam will serve to be a kind of after party for the workshop and should be a great chance to catch up with some old friends and share a little music. Thanks Rick!
Thursday, July 28, 6:00 – 8:00 PM
The Nashville Musician's Survival Guide Workshop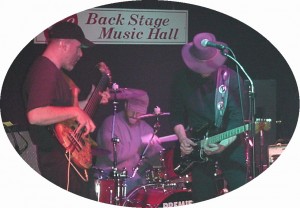 Buckdancer's Choice, Portland, ME
This workshop will be like the one in Dover, only in Portland (also a free event). Before our move to Nashville in 2002, Kelly and I lived in Kennebunk, Maine, and at that time I played many shows throughout southern Maine with my band, Electric Blue. One highpoint during that period was our regular Sunday night jams at Chancery Lane in Sanford, ME, a truly magical musical moment that occurred weekly, and one that gave birth to many friendships and even a couple of bands. We hope to see some familiar faces in Portland on this night.
Monday, August 1, 6:00 – 8:00 PM
Music Skills for Life and Rhythm Section Workshop
Music Maker's, Hampton, NH
This multifaceted workshop will be a little different than the previous two, and while I will share some of my Nashville experiences here as well, I will also spend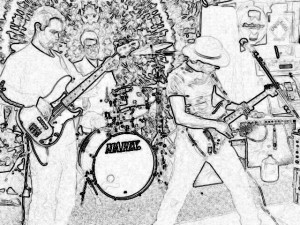 some time talking about some practical aspects about being a lifelong musician. The second half of this clinic will be an "interactive rhythm section workshop," during which students will have the option to explore some fundamental basics of rhythm section performance with me and Music Makers instructors, Mark Davenport and Tom Martin. Music Maker's is a seacoast area music school that offers private lessons on a wide range of instruments and the place in which I first began teaching guitar in the mid-90s. I'm excited to be returning to share some of what I have learned since that time with their next generation of students. This event is open to the public: cost: $20 per person – $15 for current Music Maker's students.
Jam night at Whippersnappers in Londonderry, NH
After the workshop, we are planning on attending the Monday night jam at Whippersnappers in Londonderry, NH, hosted by Gardner Berry of Mama Kicks. I used to jam with Gardner and other members of Mama Kicks back in the late 80's/early 90's when he hosted a Sunday night jam at Classics in Manchester, one of my first jam night experiences. Should be a lot of fun so come on out!
Tuesday, August 2, 7:00 – 9:00 PM
The Nashville Musician's Survival Guide Workshop
The Music Workshop, Salem, NH
This will be the final workshop of this trip and similar to my clinics in Dover and Portland the week before. Salem used to be a big part of my stomping grounds back in the day and I used to frequent the Music Workshop regularly, constantly "experimenting" with new music gear, occasionally buying some. I also used to perform regularly at the old LJ's in the Rockingham Mall, remember that place?
Blues Jam at the Roma in Haverhill, MA
After this workshop we are planning on attending a blues jam at The Roma in Haverhill, MA. My good friend and drummer extraordinaire, John Medeiros is part of the host band at this jam (John is also a former member of Electric Blue and will be part of my core band at Wally's on the third.)
Wednesday, August 3, 8:00 PM – 11:00 PM
Eric Normand and Friends Reunion Concert
Wally's Pub, Hampton, NH
This will be the last stop of our New England book tour/vacation and a very special night of music and reconnecting with old friends. It's been seven years since we last set foot on Hampton Beach, and more than ten since I last performed their regularly. When we first started planning this trip I had the idea about doing a reunion concert of sorts and I called up and presented the idea to my old friend, Kenny Gaudet from The Bars, who fast became instrumental in making this happen. The first set will consist of me on vocals and guitar, John Medeiros on drums, Keith Foley on bass, and some friends from seacoast area jam band, Superfrog – Charles Cormier on guitar and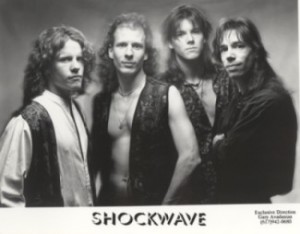 Adam Vinciguerra on percussion. A little later into the night there will be a brief reunion of my old band "Shockwave" with Doug Hinton on drums, Mark Gagnon on bass, and Keith Bowen on vocals (also possibly Brandon Lepere). Other guests will include Kenny Gaudet, Devin Cordero from Last Laugh, and possibly a partial "Jet City" reunion.
This night will mark the end of our week in New England and we are really looking forward to reconnecting with so many of our old friends and musician buddies. We are hoping to make this reunion concert an annual event, so if you like this idea at all, please come out and show some support. And for anyone who is interested in purchasing my new book, this will be your last chance before we head out of town, so if you have it in your heart to help us out with a little gas money for the ride home, pick one up, they're only $20.
While we will be leaving Thursday morning to rejoin the Rhett Akins tour for shows in Ohio and Chicago, we will be back, and next time we won't wait seven years! In the meantime, go ahead and make some plans to come out to the Wally's show and a workshop or two, we would love to see you all again! See y'all  real soon!