The Honky Tonk Tailgate Party; Part One – Nailing It to the Floor
It was the spring of 2004, and I had just completed my first year as guitar tech for Toby Keith. The whirlwind tour ran almost nonstop from July through February, taking off the months of March through June before firing back up again. So with a few months of downtime ahead of me, I was on the hunt for other gigging opportunities. I started doing some in-town nightclub gigs as a "hired gun" and a few sporadic out-of-town weekends with a few different singers I started working with, basically trying to get my fingers into everything I could. Ultimately, I was searching for another road gig, one in which I would be a player and not a tech.
Then one day I got a call from my friend "D", asking if I could sub for him on his gig with the Honky Tonk Tailgate Party. "It's a lot of songs to learn for just one gig, but it will be good for you, and if you can make these guys happy they might call you again someday." "Count me in; I'd love to do it!" I answered excitedly. "Now, you've got to make me look good. They're nervous about me subbing this out, so you've got to nail this gig, and I mean nail it to the floor! This is my reputation on the line as much as it is yours." I understand" I reassured him "I'll make you look great!" "And one more thing," he added "you can use charts if you have to, but it will be better if you don't."
The next night I went out to the Fiddle and Steel and picked up a few CDs from Scott Mattevi, their sound engineer who also worked weeknights at the Steel back then. The Honky Tonk Tailgate Party, or HTTP for short, consisted of four artists; Rhett Akins, Daryle Singletary, Chad Brock, and David Kersh, all backed by one five-piece band, and traveling together in one "Camo" bus with a trailer.
I had about 35 songs to learn in about 2 1/2 weeks, and this material spanned four CDs, two containing the studio cuts, and two CDs of a live show, so I listened to these discs over and over again. When I'm learning new music for a new gig, time permitting, my method is as follows:
First, I employ a "SIRDB", or "self-induced rapidly deployed brainwashing" of the new material (AKA listening to the CDs over and over again until I start hearing them in my sleep). I'll use this rapid infusion technique for at least a week before even picking up a guitar.
Second, I'll chart out all of the songs. While this can be time-consuming, it is well worth it as it helps me "visualize" the entire song structure and arrangement, and commits the songs to memory in a different way. It also helps me dissect any figures, breaks, or dynamics that are unique to each song.
Third, I'll get out my guitar and, using the CDs, begin learning the specific parts and playing along with the songs. I'll also begin to play the signature licks and intros without the recording, to further commit these most essential song signatures to memory.
So that's how I spent those three weeks of my life. After the first week or so of nonstop listening, I spent five or six hours a day working on HTTP material, and by the time I was driving to the bus the night before the show, I was ready.
I arrived to the bus a half hour early, loaded my gear into the bays, and met the artists and rest of the band, some of whom I knew already from hanging out and sitting in at The Steel. After a night of sleep in the back lounge (there were 13 riders on this bus) and some downtime the next morning, we were loading in and setting up for outdoor show somewhere in Alabama. After getting the sound dialed in, we began rehearsing some of the material, one artist at a time. And thanks to my patented "SIRDB" technique, other than one piece of paper with a few key signatures written down, I didn't have a chart in sight. So far so good, I didn't make any glaring mistakes during the rehearsal, I hadn't said anything stupid yet, I even managed to make Daryle Singletary laugh with a couple of offhand comments. But I was nervous, nevertheless. Even though I had previously done several shows playing guitar for Vern Gosdin, and had regularly stood on stages in front of 30,000 people when teching for Toby, this was different. I had to make FOUR different artists happy on this night, and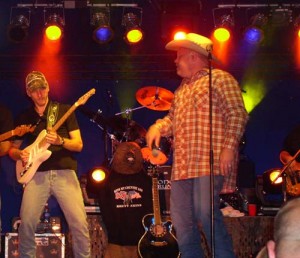 each of these artists had their own unique song style, and performance approach.
After sound check/rehearsal, dinner, and showers at the hotel, we were back at the concert site getting ready for the show. Dressed in our best, we hit the stage around eight o'clock and were off and running with David's set. The outdoor stage faced an open field filled with 1000 or so concert-goers and they quickly became immersed in the show. This show ran like a grid and there was very little space between songs, some songs even running into the next song "medley style", so I had very little time to think. Before I knew it, David's set was over and Chad Brock was walking onto the stage as David walked off, the music never stopping. Chad's set went equally as smooth, and by the time we played his last song of the set, his hit "She Said Yes", I was starting to feel pretty comfortable on this stage.
Now it was time for Daryle Singletary's part of the show. Both David's, and Chad's sets were of the modern country/pop kind of sound, and this used a style of guitar playing that was more familiar to me. But Daryle's music was more rooted in traditional country music, so his set required a different approach on the guitar, much more use of the "chicken pickin" technique, and the use of a clean sound throughout. Fortunately, my overkill approach to preparing for this gig came in handy and Daryle looked over at me and smiled at a couple of points during the show, at one point even commenting over the mic "I'd like to introduce Eric Normand filling in on guitar tonight. He's a Yankee, but we won't hold that against him… (laughs)…He's doing a fine job." The crowd reacted approvingly, and my confidence continued to grow. This was great; I was winning over the bosses!
Finally, an hour and a half into this nonstop barrage of country music fun, it was time for Rhett's eight or nine songs. Rhett's music is as much southern rock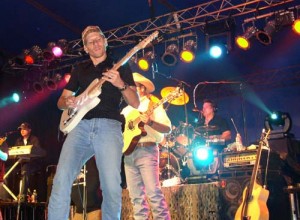 as it is country, and this driving approach was right up my alley. By the end of his set the crowd was in a frenzy and, after a brief pause, we began playing Hank Junior's "All My Rowdy Friends Are Coming over Tonight" for the encore. The HTTP encore featured all four artists on the stage at once, each taking turns singing verses, and big harmonies on the choruses. We did three or four songs; each followed with a roaring applause, before retreating to the bus.
After the show, the artists and band members told me I did a great job and that they appreciated how seriously I took the gig. It was a great feeling to know that my mission was successful. A couple of days later I got a call from D. "I heard you did a great job. You even made Singletary happy, and that's hard to do." "Thanks, it was tons of fun, all the hard work paid off. I hope it comes up again."
In the meantime, here's to "Nailing It to the Floor"!
One Response to The Honky Tonk Tailgate Party; Part One – Nailing It to the Floor