The Mysterious Disappearance of Chuck's MIDI Pedal and Repentance with a Bottle of Jack
It was a couple of months into my new gig as guitar tech on the Toby Keith tour and things were going pretty well. I was getting used to this new world of touring life, had become accepted by the band and crew, and had my job down pat. Or so I thought.
This fast-paced tour was a whirlwind and most days were a blur. We were playing 20 to 30,000 seat arenas and sheds in 4 to 5 major cities a week and most shows were sold out. My job as guitar tech required me to have 22 guitars and basses (plus one fiddle) in tune, polished, and in perfect working order for each show. I was also responsible for the pedal steel guitar, the keyboard rig, the backline (excluding drums), a few pedal boards, and Chuck's (Toby's bass player and band leader) infamous MIDI pedal.
So that was the gig, make sure the gear was ready for the sound check and show, assist a few guitar swaps during the concert, and make sure all the gear made it safely onto the truck each night. The job was quite stressful, as I was responsible for maneuvering all of this expensive and delicate gear, much of which held sentimental value to the players, through a sea of crew members, stagehands, and thousand pound road cases, each day in a noisy and unfamiliar concert arena. In other words, total chaos.
So you can begin to understand how someone could lose one itty-bitty MIDI pedal within all of this chaos.
The tour was like the movie, Groundhog Day. Each day I would awake in my bunk, walk to the front lounge of the bus, and look out the window to a view of the back side of a generic concrete and steel structure. After getting dressed and going into catering for breakfast, I would patiently await a call over my two-way radio alerting me it was time to load-in my truck. After overseeing the stagehands load my backline and "guitar cart" to some temporary location inside the arena, I would set up an out of the way workstation and begin restringing guitars.
Before I could begin the next phase of my work, the placement and set-up of the backline on the deck, pretty much everything else had to be in place. The video wall had to be erected and flown, followed by the lighting truss and speaker towers, the Ford F150 truck/prop and its hydraulic "Dolly", and then the large set wall would finally be constructed, the entire process usually taking several hours.
On this particular day it was sometime just after lunch when my gear was fork lifted onto the deck. After a couple of stagehands assisted me in lifting the Hammond organ up onto the keyboard riser, I began taking the lids off of the racks and speaker cabinets behind the set wall. A little while later I had finished wiring the rigs and began placing and wiring the pedal boards. After placing Rich and Joey's boards out on the deck, I returned to my guitar work box for Chuck's MIDI pedal, only to be horrified upon opening the empty draw it was usually stored in.
OH NO!
I began searching through the other drawers of the work box and found it nowhere in sight. I asked Earl, the monitor engineer, if he had seen it, and he said he hadn't. I began a systematic search for it, looking through every road case within sight (in reality, I probably looked more like a crazed drug addict searching for his missing dope). Finally, in the midst of my frantic behavior (which was now beginning to alarm some of my fellow crew members), one of the lighting guys, a spirited fellow that everyone called "Convict", spoke up. "Are you missing something?" I answered "Yeah, I can't find Chuck's MIDI pedal". "Oh" he replied, with the slightest hint of sarcasm "Maybe you left it behind last night, I'll check with the other lighting guys."
I sensed that I was being had, but as I was still the new guy on the tour, I wasn't quite sure. A few minutes later, my panic now escalating, I asked one of the other audio guys if he had seen it. "Why don't you ask Convict?" was the reply, and I now realized that I was officially being toyed with. I went back to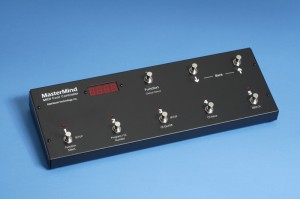 lighting world or "Dimmer Beach" as we called it, and again spoke with Convict. "Are you sure you haven't seen the MIDI pedal?" I desperately asked. "What's it look like?" he chided. "It's black, about a foot long, and has some buttons on top." "I might know where it is, but it's going to cost you." He stated matter-of-factly. "What's it going to cost?" I asked, my frustration beginning to grow. "One bottle of Jack Daniels" was his playful response. "You're holding the MIDI pedal ransom for a bottle of booze?  That's not fair." "I guess it's not that important to you." he said, and then walked off.
Furious, I stormed off and found Dave, the road manager, to complain about this obviously unfair play. After telling him my story in great detail, he replied by stating what by now should have been obvious to me "Well then, I guess you better buy him a bottle of Jack!". "That's not right." I begged. "What do you want me to do, I didn't lose the pedal." he replied dismissively. And with that I started walking off to again confront Convict. Before I was completely out of the room, he added "When you're ready, give me some cash and I'll send a runner to go buy a bottle." As I continued down the hall I swear I could've heard subdued laughter coming from the production office I had just left.
I made one last feeble attempt at convincing Convict that the right thing to do was to just hand over the pedal, but he wouldn't budge. No one was coming to my aid, and it seemed inevitable that I would need to give in to this would-be extortion. Out of time, with sound check now fast approaching, I went back to Convict with my tail between my legs. "Okay, I'll get you a bottle of Jack." And with that, he opened a nearby road case and handed me the pedal.
I did have sour grapes about this for a few days but managed to get over it. In hindsight, Convict had done a huge favor for me by grabbing the pedal. It wasn't his responsibility and he could have just left it there on the arena floor, and that would have made my life much more difficult. I never did completely figure out if this whole thing was some sort of weird initiation for the new guy, or a lesson to teach me the importance of making sure all of my gear was accounted for before quitting for the day. Needless to say, that was the first and last time that I would ever forget to pack up Chuck's MIDI pedal (or any other piece of gear for that matter).
Epilogue: A few days later, Convict invited me onto his bus for what was obviously some kind of peace offering – a toast to Chuck's MIDI pedal with shot of Jack Daniels!