The Peach Pickers on the 2013 Luke Bryan Farm Tour
by Eric Normand
This year's Luke Bryan Farm Tour was an epic event and as a "Peach Pickers" band member I was a first-hand witness to what has become a yearly phenomenon in the Deep South. We played eight sold out shows in eleven days, most of them taking place on actual farms, and the fans showed over-the-top enthusiasm for Luke, The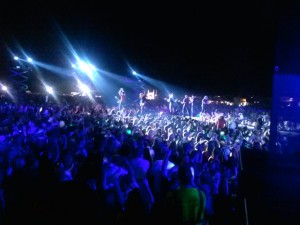 Peach Pickers, and the other acts on the bill, Cole Swindell and Chancie Neal.
For those of you not in the know, the Peach Pickers are the most successful songwriting team in the history of Nashville and are comprised of Rhett Akins, Dallas Davidson, and Ben Hayslip who together have penned 40 number one hits and countless top 20's. Lifelong friends of Mr. Bryan, they've written and co written several of his biggest songs and at the time of these concerts had five out of the top 10 songs on country radio. Full of nothing but chart topping hits, our 12 song, 45 minute set was extremely well received and while these Georgia natives don't perform live on a regular basis, there is an undeniable honesty and vibe to their performances when they do.
The Peach Pickers band consists of Nick Forchione on drums (on loan from the Black Crowes crew), "G-men" members, Mike Chapman on bass and Chris Leuzinger on guitar (the G-men are a group of session musicians who played on all the Garth Brooks records), and myself on guitar and bandleader duties.
The production on this tour was truly impressive and it was amazing to watch the daily transformation of an empty field into a state of the art concert production in just a few hours. In addition to the audio, lighting, and video crews, the Luke Bryan Farm Tour travels with its own catering company, stagehands, security personnel, and mobile stage – they even erected a fence that encircled the concert grounds on a daily basis. Setups began in the early morning, the complete production was up by early afternoon, and all the bands were sound checked before the crowd funneled in at 5 PM. The first act was on at 6:30, Luke's show ended around 11, and by 2 AM we were rolling down the road to the next farm (at least most of us were).
The evening's first opener, Nashville based singer-songwriter; Chancie Neal played an intimate, acoustic set to begin warming up the capacity crowds of 8,000 to 17,000. Following Chancey was Cole Swindell who rocked the attentive crowds with his high-energy four-piece band on a nightly basis. By the time Cole finished his set the sun was just going down, and after a brief changeover we began our show to a crowd that was primed and ready.
Our set list was a literal Who's Who of modern country radio featuring several number one songs written by The Peach Pickers and brought to the masses by artists like Billy Currington, Blake Shelton, and other country music giants. Our show went like this:
All about Tonight
The One That Got Away
Hey Girl
Anywhere with You
That's How Country Boys Roll
It Goes like This
Farmers Daughter
Running Outa Moonlight
Point at You
Honeybee
Parking Lot Party
Boys Round Here
A set list of such well played radio tunes makes for quite the sing along and at times the sounds of thousands of voices singing along rivaled the volume of the band. Our show-ender, "Boys Round Here" made for a pinnacle moment during which Ben, Rhett, and Dallas walked "the runway" – high-fiving audience members while taking turns singing verses. Our shows ended with a roar of applause and minutes later our gear was packed up and under the bus. Shortly after the conclusion of our set, Luke and band brought the night home – their high energy, action-packed set as well received as any touring entity out there. Their show even featured an acoustic set, during which the entire band converged on an intimate setting created in the middle of the runway.
For me, this two week stint was one of my musical high water marks of the year and only bestowed a few minor inconveniences (bad cell phone coverage, short nights of sleep, and maybe a little extra dose of pollin and ragweed). I got to reconnect with some old friends and made some new ones – I even participated in a daily run to a local gym with some of the guys from Luke's and Cole's bands.
One thing I can say about the Luke Bryan Farm Tour is that it has a family-like vibe. The artists, musicians, and crew members all worked together with the common purpose of making a great show happen every night, and a great show did happen every night! On the last night of the tour, I found myself in a moment of irony watching one of Luke's final songs of the evening from side stage, "I Don't Want This Night to End". I think there was some real truth in that moment for many of us.
If you want to learn more about what happens behind the scenes in the Nashville music industry, check out Eric's book "The Nashville Musician's Survival Guide".