Vern's Coming over for Dinner
Having grown up in the Northeast on a diet of rock and blues, and listening to very little country music prior to moving to Nashville, the name Vern Gosdin was not one I was familiar with. So when I got a late-night phone call in the fall of 2002 about playing a show with him, my initial reaction may have been somewhat muted. The call came from a producer named Kenny whom I had met a few weeks earlier at my house gig at Libby's. He described the show as being a one-off with Vern to somewhere in Kentucky and asked me if I could put together and rehearse a band. Hungry for work, I accepted the show and began making calls to recruit players the next day.
One of the first calls I made was to D for some advice. "Vern Gosdin! Do you realize who he is?" he replied in amazement. "Well I know he had some success a few years back." I replied unknowingly. "They call him 'the voice' of country. It's like getting a gig with Merle Haggard. I've been here 10 years and I've never got to play with him." a hint of jealousy riddled his voice. "He's a real legend. This will be a great experience for you."
D's excited reaction prompted a little further investigation, which of course revealed that ole Vern was sure enough a bona fide superstar.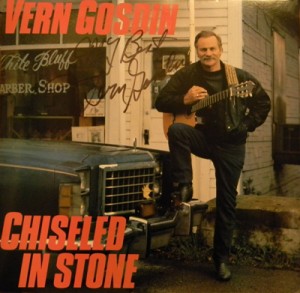 In a career that spanned over four decades, he had recorded somewhere around 20 albums yielding roughly the same number of top 10 hits. Now I began to get a little nervous. Always up for a good challenge, I began calling some of the better players I had met over the past couple of months. The role of a bandleader in Nashville, I quickly learned, puts one in the unique position of being able to offer work to other players, and in Nashville, work is something there is never enough of. Once people know you're a bandleader, phone calls start getting returned with more expediency and other musicians seem to have more interest in you when you walk into a room (of course when things go wrong, you will be the first one everyone looks to).
Within a few days I had put together a five piece band of the best players I could find consisting of Chip on drums, Sid on bass, Mark on keys, Brian on steel, and me on guitar. I obtained recordings of Vern's material from his assistant, charted the songs, and dispersed these materials to the other players. As the show date grew closer, Vern's assistant notified me that one rehearsal would be required the week of the show. I also learned that we would need to provide transportation for Vern to and from the rehearsal, as he no longer drove.
On the day of the rehearsal, a couple of the band guys that lived close to Vern's home near Opryland stopped by to pick him up. My only encounter with Vern up to this point had been one brief phone call, and our discussion was so brief that I still had yet to gain a real sense of the man. Over the weeks leading up to this rehearsal I had begun hearing a few horror stories about Vern. Apparently, he had a penchant for firing drummers, at least according to the rumors, and had a reputation of being quite "ornery" from time to time. He had even been known to pull a gun on a few unsuspecting musicians over the years, supposedly.
This was not the Vern that I would meet later on that night. For into my house walked one of the kindest, sweetest fellows you could ever meet. He had a sense of humor too, as we all learned when I was the butt of his first joke on this night. "How are you feeling today?" he asked. "Great, thanks." I replied. "Well it's a good thing that you don't feel like you look." he responded as muted chuckles engulfed the room. This kind of dry humor was apparently typical for Vern as I would later learn.
I had rearranged my basement music room to accommodate this band rehearsal, and the limited space was quickly filled with gear and bodies. Once the gear was up and running, our rehearsal began. Another thing that I would later learn was that Vern had suffered a stroke in recent years, and this often impeded his communicative ability. Several songs were stopped short when he needed to convey different musical ideas – signature licks, key changes, intros, endings – he couldn't always communicate exactly what he was thinking, but it became obvious that he knew his music well, and that he knew when something wasn't being played right.
We did our best to make his songs feel right to him, and although the mood of this night was fairly upbeat, the rehearsal wound up being shorter than optimum for us, and longer than optimum for Vern. He was getting tired and called the night before we could get through all of the material, rendering it essential that the band be extra prepared for the gig.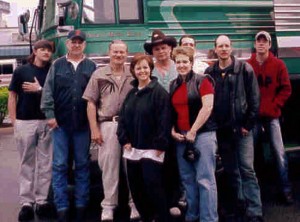 A few days later we all met at Fiddlers Inn near Opryland and hopped on a bus bound for a show in Kentucky. We rode the bus for a few hours before arriving at our gig where we loaded in, sound checked, and ran a few tunes. We did two shows that night in a midsized venue that was reminiscent of an old church out of yesteryear. The two sets were night and day by comparison, the first being quite bad as Vern was feeling a bit under the weather. We did our best to hold it together behind him, but it was a struggle. After a long break, during which Vern got some food and rest, we hit the stage again for our second and final show. Vern, now feeling much better, performed brilliantly. His sweet, resonant voice conveying a wide spectrum of emotions, I could now hear why he had been deemed "the voice" by so many. This strong vocal performance made it effortless for the band to follow him – We were on! The show ended to a strong applause and a room full of smiles. We had done what we had set out to do, and were on our way home.
Over the next year I played a handful of dates with Vern, and remained as bandleader and guitarist through my tenure with him. About a year later I started working on a busy tour and could no longer do Vern's dates. But during that time we had become good friends, and years later he still called me from time to time to say hi. He had a handful of jokes that weren't particularly funny, that somehow made me laugh anyway. I would be walking around a supermarket or Wal-Mart and the phone would ring – "Hey son, it's Vern, I've got to ask you something. Do you hear that sound?" "What is it?" I would ask. "It's the sound of my boot hittin' your ass!"
He would literally start out every conversation with a joke like this, and I would laugh every single time. Around 2008 I was fortunate enough to have a schedule that would allow me to do a few more shows with him. Then I heard the sad news in April of 2009 that he had died from complications due to another stroke. "The Voice" of country may have moved on, but his musical legacy remains a timeless testament to his greatness. And the Vern that I grew to know and love will always hold a special place in my heart. Even though I know he won't be calling any time soon, I still keep his number in my cell phone, just in case.